This past year the Ancient Mediterranean Archaeology and Classics Mobile Lab had the opportunity to loan out a handful of our items to Dr. Allannah Karas, Assistant Professor of World Languages and Cultures at Valparaiso University.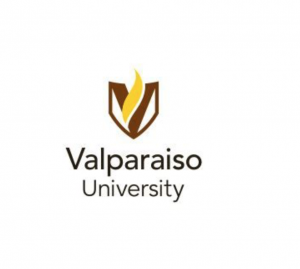 Below, Dr. Karas shares her experiences receiving and integrating the materials from our lab into her classrooms. We are excited to continue loaning out items from our collection to individuals and institutions beyond just our Indianapolis community, and ultimately engaging more people with the Ancient World!
"I'm a firm believer that students best understand the ancient world through direct engagement with the material remains and physical culture of that world. I am an Assistant Professor and Section Head of the Greek & Roman Studies Program at Valparaiso University. Thanks to the generosity of the Butler University (and the support of the Valparaiso University Committee to Enhance Teaching and Learning), throughout the entire Spring semester 2019 I could provide my students in "Introduction to Greek & Roman Archaeology" a hands-on experience with the material culture of ancient Greece and Rome through the magnificent replicas loaned to us by the Butler AMCA Mobile Lab.
What is more, the entire process of my borrowing of these items attests to the collegiality, service-oriented pedagogy, and professional development which AMCA Mobile Lab is generating not only for Butler University and its students but potentially also for faculty, students and institutions of higher learning throughout the state of Indiana.
I arrived at Valparaiso University in Fall 2017 with the task of revitalizing our Classics (now, Greek & Roman Studies) program within the Department of World Languages and Cultures. Within the same year, also, I came into contact with Dr. Lynne A. Kvapil and Dr. Chris Bungard, who not only generously shared their advice about my program's new curriculum but also offered to loan items from the Mobile Lab in order in support of Valpo students interested in archaeology.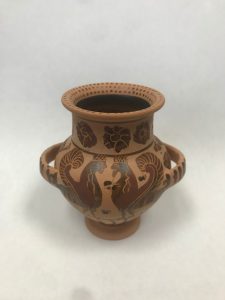 At Valparaiso we have a local chapter and lectures from the Archaeological Institute of America, but formal archaeological opportunities for students are still in the developing stages. So, I was delighted with the opportunity to borrow replicas from the AMCA Mobile Lab collection to supplement my students' exposure to the material culture of ancient Greece and Rome. After perusing the easily accessible AMCA Mobile Lab Catalog, I selected a wide variety of Greek vases, votives figurines, coins, and even genuine ancient pottery shards for use in my classroom. In the end, I chose almost 30 different items, and the Mobile Lab allowed us to borrow these items for an entire semester!
The process was marvelously simple and professionally handled. Some very competent student lab interns, particularly Gracie Munroe and Lilly Hinckley, ensured the proper shipping and delivery of the items to my office and checked in from time to time to confirm that everything was working out well for the integration of the artifacts with my pedagogical plans for the course.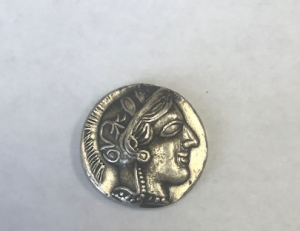 Having these replicas to work with throughout the semester provided innumerable benefits for student learning in my course. Since I had selected items from a wide variety of different eras in Greek and Roman history, I was able to provide examples of pots, figurines, coins, or other artifacts to complement my lectures. My students—all 40 them—also engaged in labs and work sessions where they could touch, handle, study, and analyze ancient artifacts and their artistry firsthand. By studying the AMCA Mobile Lab replicas, my students learned to identify different styles and time periods of pottery and different uses for various votives and items of everyday Greek and/or Roman life. Seeing the artifacts to scale gave them a perspective and depth in their analysis which a slideshow can hardly hope to recreate. And, by puzzling over the use of small pottery shards, and they were able to grapple with some of the challenges presented to a field archaeologist. In sum, my students were better able to evaluate and situate individual items from the ancient Mediterranean within their relevant social, artistic and cultural frameworks, and to experience, a little bit better, the importance of archaeological work and material culture in understanding a civilization and a people…and they (and I) had enormous fun in the process.
Many thanks to the generous collegiality of Dr. Kvapil and Dr. Bungard as well as the highly professional and innovative pedagogical service of all involved with the Butler University AMCA Mobile Lab! It was a hugely helpful resource for us here at Valparaiso University and we hope that many other students and teachers will take advantage to enrich their experience of the ancient Mediterranean world through your excellent work.
-Dr. Allannah Karas"
Thank you so much Dr. Karas for your kind words and your partnership with us!