Sunday, April 27th, 2014
1:00 pm | Add to Calendar | Purchase Tickets
Clowes Memorial Hall - 4600 Sunset Ave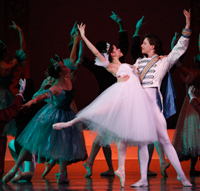 Start the afternoon off hearing the familiar fairy tale Cinderella and enjoying appearances by her wonderful friends: Snow White, Sleeping Beauty, Rapunzel, the Frog Princess, Spiderman, Batman, Elmo, and Mickey Mouse! Photographer will be provided, but feel free to bring your own camera.
A Butler Ballet performance of Cinderella will follow at 2:00 p.m. This famous fairy tale comes alive in grand ballet style accompanied by the marvelous and fanciful 20th century score by Sergei Prokofiev performed by the Butler Orchestra under the direction of Stanley DeRusha.
Cost is $28 for children and adults and includes light refreshments at the reception and your orchestra-level ballet ticket. Space is limited. Reservations are required and accepted on a first-come, first-served basis and must be made online by Friday, April 24. For questions, contact Charles Stanton.
Show tickets will be available for pick up at the Story Time Reception.
Categories