Indianapolis created fresh, fun, and unexpected ways to appreciate the thriving arts culture. Grab a friend or a few fellow MFA students to have a totally new experience. If you aren't inspired, you are at least guaranteed a good time.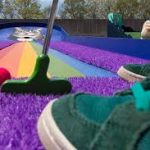 Mini Golf at the IMA
Mini Golf at the IMA (Indianapolis Museum of Art) combines original art with playful competition. The course features 18 holes designed by local, regional, and national artists. In honor of Indiana's bicentennial, each hole is inspired by Indiana history, heritage, and landmarks. Refreshments are available from King David Dogs and Sun King Brewing at the course's clubhouse. Butler students receive a free membership to the IMA and can play golf for free.
Bonus: While at the IMA, don't forget to check out 100 Acres, one of the largest museum art parks in the country and one of only a few to feature ongoing commissions of temporary, site-responsive artworks.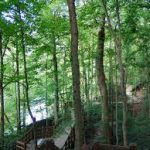 Fort Ben Writing Prompts
Throughout the summer and fall of 2016, local Indianapolis poet Liza Hyatt will place writing prompt boxes throughout Fort Benjamin Harrison State Park inviting visitors to write about their experiences there. Written material created at Fort Ben will be published on For Ben Writer's website, providing a community forum. All contributors to the Fort Ben Writers online literary journal are invited to read their work at a public reading at the park on October 1st.
Bonus: Called "an oasis of green in an urban landscape," Fort Ben is less than ten miles east of Butler's campus and filled with adventure for the mind and body. Landscape and history blend together at this former US army base. The 1,700-acre park features both paved and rugged walking and jogging trails, bike trails, picnic sites, fishing, horseback riding, and two national historic districts. Several local restaurants are located in the former army barracks and smith shops, including a craft microbrewery and Porter Books and Bread, where diners are encouraged to select books to read while visiting.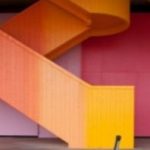 Public Art Bike Tour
September 17th, 2016 at 09:15 am – 12:00 pm (Sat)
Art is all around us in downtown Indianapolis! Experience it yourself on a casually paced bike ride through the city to search out and discover a variety of public art installations along the way.
Stops on the tour include murals, sculpture, electronic art, civic art on and around the Statehouse, and the iconic Monument Circle in the heart of downtown. Arts Council Director of Public Art Julia Muney Moore will guide the art seekers through the Mile Square.
Tour starts & finishes at Sun King Brewing (135 N College Ave, Indy 46202), and takes two to three hours with multiple stops to admire and discuss selected artworks. After the public art bike tour, stay for an art chat over a complimentary pint courtesy of Sun King! Bring your own bike, or rent one for $10. Registration is required.
Bonus: If you didn't get enough art from this tour, cruise the 8-mile cultural trail which just gained eight large sculptures made of steel, bronze, aluminum and glass by noted New York artist Don Gummer. The temporary exhibition, called "Don Gummer: Back Home Again," adds to the already existing large-scale art pieces along the trail. See photos and read about the exhibition here.