As classes come to an end, students make plans for the long winter break. Despite the cooler temperature, our city is far from hibernation. It is livelier than ever, filled with exciting things to do and see all month. All students and alumni are invited to the annual MFA holiday party on December 10th. While there, gather a group to check out Indianapolis in December.
Event descriptions are taken from event websites. 
Classic Outdoor Activities
Sledding: Some argue the best sledding in Indianapolis is the Butler University football stadium, but since it's not clear if it's officially allowed, try Fort Harrison State Park, 6000 N. Post Road, Indianapolis. A massive sledding hill provides plenty of space for everyone.
Toboggan: The toboggan Run at Pokagon State Park is worth the drive to the northern part of the state. The run is thirty feet high, a quarter mile long, and has reached a recorded speed of 42 mph.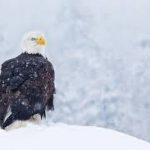 Cross Country Skiing: Eagle Creek, a short drive from campus, offers cross country skiing rentals and trails. Bonus: winter is the prime time for spotting bald eagles in Indiana. 
Ice Skating: Indiana State Fairgrounds, just a few miles from campus, is the perfect spot for beginners or pros. 
Snow Tubing: Paoli Peaks, about an hour from campus, offers skiing, snowboarding and Arctic Blast tubing for winter thrill seekers. 
Christmas light displays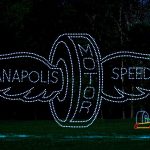 Lights at the Brickyard
The Indianapolis Motor Speedway will bring new levels of cheer to this holiday season with a spectacular "Lights at the Brickyard" seasonal event. Attendees will experience more than 40 scenes filled with 400 light displays along a 1.7-mile driving experience, which includes crossing the famous "Yard of Bricks" at IMS.
Festival of Trees – The Indiana Historical Society's annual Festival of Trees presents 72 elaborately themed trees. New themes will play off recent events, such as the World Series and Indiana's Bicentennial Torch Relay, as well as pop culture favorites, such as Disney's Frozen and Nintendo's Super Mario Bros. Guests will enjoy live, local holiday music while taking in the magic of the trees at night.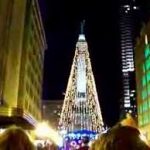 Circle of Lights – Circle of Lights is the world's largest Christmas tree, complete with nearly 5,000 lights and 52 garland strands streaming from Indy's beloved 242-foot tall Soldiers and Sailors Monument. This tree has been named by Travelocity as one of the top five must-see Christmas trees in the nation.
Christmas at the Zoo – Dating back to 1967, the Indianapolis Zoo was the first zoo in the United States to hold a holiday lights event. At every twist and turn you're sure to enjoy the sparkling twinkle of 100 percent LED light displays that will adorn Zoo grounds, making Christmas at the Zoo a great place to create holiday memories! USA Today's 10 Best Zoo Lights  ranked Christmas at the Zoo in the top five nationwide.
Indianapolis Museum of Art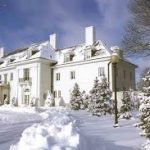 Christmas at the Lilly House, Now through January 8th – Share the season at the IMA! On the short walk to Oldfields-Lilly House from the main Museum building, you will be greeted by a lit path of holiday lights. Upon entering the mansion, discover a surprising array of winter bulbs and holiday floral arrangements. The house will come alive with flowers including stunning displays of poinsettias, amaryllises, cyclamens, and paper-whites.
Holiday Hullabaloo, December 1st – Enjoy an evening of holiday shopping and festivities at this year's expanded Holiday Hullabaloo featuring specials and free gift wrapping all day long! During the evening, enjoy live music, trunk shows by local and national artists and jewelers, and luminaries throughout the gardens.
Winter Solstice, December 23rd – Bundle up for the annual Winter Solstice celebration! Snap a family photo next to Karl Unnasch's "tree" of toys and with Santa. At this festive celebration, visit Christmas at Lilly House, sing along with carolers, create winter art, meet arctic creatures and watch blocks of ice transform into sculptures at this all ages family event. Warm up by the fire with sweet and savory treats from General American Donut Co., Pi Indy pizza, and Sun King Brewing Co.
Treats & Drinks
Don't forget to enjoy the best part of the season – relaxing. Grab your writer's notebook or laptop and enjoy a treat while you write.
Brics – Best known as a summer hot spot on the Monon Trail, the Broad Ripple ice cream shop offers warm treats for winter hikers like s'mores kits and hot chocolate.
Best Chocolate in Town – Located on Mass Ave, a few steps from Indy Reads Bookstore, this chocolate shop serves Indy's top rated hot chocolate. Books and hot chocolate – is there a better way to spend a winter day?
Nicey Treat – Like cold treats on a cold day, weirdo? Try a hot chocolate popsicle at Nicey Treat,916 E Westfield Blvd, a bike ride from campus.
South Bend Chocolate Company – While checking out the Circle of Lights, be sure to try one of the many different flavored hot chocolates offered by the South Bend Chocolate Company, located right on the circle. They also have an assortment of seasonal goodies like candy cane fudge and Christmas crunch popcorn.