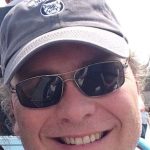 Dave Marsh (Butler MFA 2016) on what a writer realized by attending the NFL Scouting Combine in Indianapolis.
THE WORK
A brisk Saturday morning, March 4th, not yet 8AM. The end-zones have been converted. One says Indianapolis. The other has the NFL logo and simply Scouting Combine. There are only a few thousand people inside Lucas Oil Stadium in downtown Indianapolis, but among them are every sport media powerhouse you've ever heard of, NFL executives, and the head-coaching staff of all the major NFL franchises.
It is quiet. Waiting room quiet. So quiet that you can hear the cleats on the turf as each hopeful runs the 40-yard dash under the watchful eye of scouts sitting at folding tables down the near-sideline. We, the public, have been admitted via a lottery process that is new – this event was once closed to casual observers like us. Today is Receivers and Quarterbacks; we've drawn a highly coveted session.
There is a talk before we're led into the club level of the stadium. No cell phones. No food. No clapping. No voices above a whisper. The top college football players in the country are on the field. With each warm-up stretch and each name called, the hours spent alone in gyms since middle-school come down to these attempts to realize a dream – that of turning pro.
But as I sit and look across the field, I'm not thinking about turning pro or football.
I'm thinking about the work.
In football and in writing, it's not about talent. It's about doing the work, showing up and intentionally going through the paces. These offensive drills are the query letters, they are the short stories and poetry being launched, spun up into the air, in search of a literary journal that will receive them. The ultimate outcome is beyond your control. All you can do is get up each day, without fail, and sit down at some point to do the work. For these guys – for the ones who have a legitimate shot – the NFL Combine is simply another workout. And for those of us who are striving to take our writing to the next level, each submission – to a workshop, journal, thesis advisor, or agent – is simply another opportunity to present what we do best.
The work.