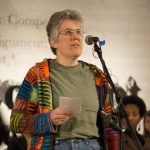 Butler MFA thesis candidate Tracy Mishkin is one of the most prolifically published students in the MFA program. Her secret? She never lets rejection letters discourage her from submitting her poetry. She explains how her most recent poem "Prisoner of War" came to be accepted. 
I am so excited! My poem "Prisoner of War" has been accepted for publication by Switchback, the journal of the MFA in Writing Program of the University of San Francisco. "Prisoner of War" is about the WWII experiences of my father's uncle, Joe Bergstein, who is the most vigorous 94 year old I know.
I have been working on this poem since 2013. It was rejected 45 times–and warmly rejected 5 other times. When Switchback first had the poem a couple of years ago, they encouraged me to revise and resubmit, which I did. Some people are afraid to do this, even when a journal encourages them. Don't be afraid!
This poem was very, very extensively revised and researched. I got important feedback from a journal called Poets and War, as well as from [Butler MFA professor] Alessandra Lynch and my writing group, InterUrban.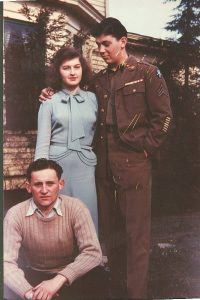 Uncle Joe says, "I can't imagine why it took so long to be recognized. I think it's better than any of the poems I've seen in The New Yorker in recent years."