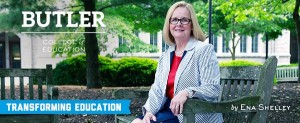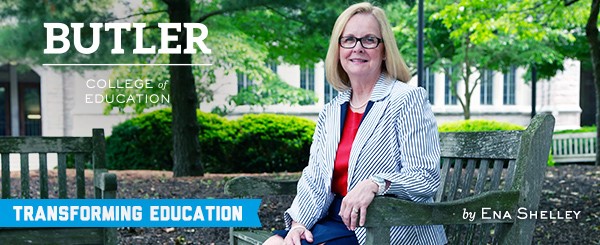 The only way to abolish war is to make peace seem heroic.
—John Dewey
Recently, Butler University alumnus Rob Goodwin came to campus to speak to Dr. Arthur Hochman's and Professor Cathy Hartman's undergraduate first-year course in teacher education. Rob is a teacher in Ferguson, Missouri. He reached out to Dr. Hochman to see if he could share his experience with future teachers.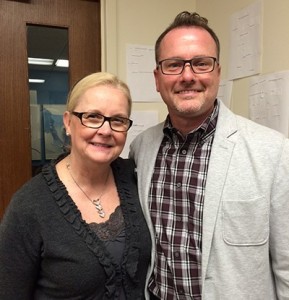 Listening to Rob share his story will be something I will never forget. He exemplified Dewey's quote by demonstrating courage and compassion for his students, colleagues, and community during an extremely difficult, volatile time in the Ferguson community.
Rob had the difficult assignment of standing outside of his school, while wearing a bulletproof vest under his jacket, to inform children that school was closed. His concern was for those who would now not have breakfast or lunch. He worried about their safety and wondered how or if the community could
heal. When the school re-opened, he quickly offered a secure and safe space as he welcomed his children back. School administrators offered a great deal of advice to the teachers as to how to approach the students, but Rob asked a profound question. He asked, "Who nurtures the nurturers?"
This question took my breath away. How do teachers who have been emotionally impacted by tragedy find their own peace so that they can continue to provide support and solace for others?
In the following days, Rob's question continued to circulate in my thoughts. I was confronted with it again while communicating with my good friend Angelica Granqvist, who is Swedish and teaches in Vallentuna just outside of Stockholm. She teaches high school English and many of her students are refugees. They have fled war-torn countries, oftentimes leaving loved ones behind, and have found safety in Sweden. Angelica embraces the diverse heritage of her students and, through the study of literature (James Joyce is a favorite), she helps her students find themes of perseverance, hope, facing fear, and finding peace.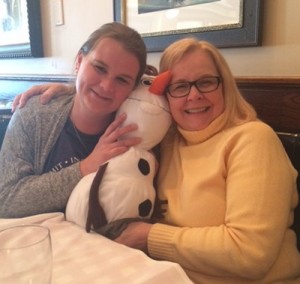 Like Rob, she makes peace heroic through her teaching and actions. She has a strong set of core beliefs about who she is as a person and as an educator, but I am also keenly aware of the burdens she carries while caring for her students. Whether it is in Missouri or Sweden, how do strong educators make peace and find peace?
What I have learned, and continue to understand more deeply from educators like Rob and Angelica is that peace begins first and foremost within each of us. I believe this comes from having a strong set of personal and professional beliefs and trying to live them each day through our interactions with others.
We can also find peace by sharing our stories with others and find both reassurance and renewal. Daily reflections and observations of what is going well, taking time out to breathe, and not being afraid to ask for help—these are steps that can be taken for the nurturers to be nurtured.
I dedicate this month's column to all of the peacemakers in our schools and communities. My hope is that each of you will find your own ways of being nurtured and that you focus on the heroic work you do to bring peace and healing to the world. Share your story with us at coe@butler.edu.
Dr. Ena Shelley
Dean, College of Education