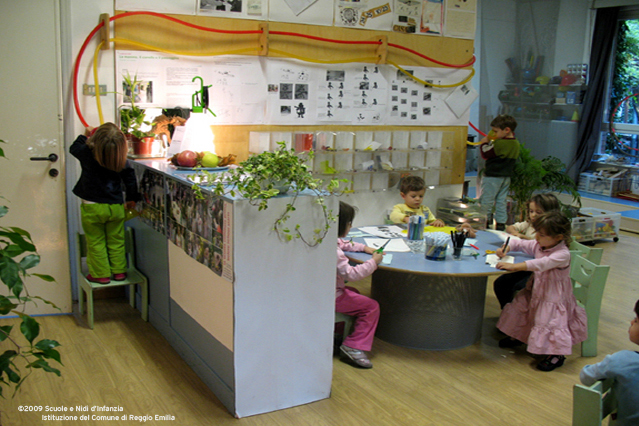 Interested in studying abroad?  WE WANT YOU to travel Infant Toddler Centers of Reggio Emilia. Because of their reputation, and because demand is high, the opportunity to visit these schools is rare. Don't miss your chance to explore these internationally acclaimed schools, meet with world-renowned teachers, and interact with educators from around the globe!
DATES: October 15-22, 2016
PARTICIPATION FEE: $2,850 or $3,150 Cost includes the program fee to Reggio Children, hotel accommodations for 7 nights. The per person amount is based on hotel accommodations in shared double rooms at 3 or 4 star hotels. Single room supplement is $300 (see registration form).  North American Reggio Emilia Alliance (NAREA) members receive a $100 discount. For membership information please visit: www.reggioalliance.org.
Fee to Reggio Children S.r.l.:
• The organization and presentation of the study group program for the week
• An informational folder for each participant with materials about the town of Reggio
Emilia, its municipal infant toddler centers and preschools, Reggio Children and the Loris Malaguzzi International Center
• Private bus transportation to and from the centers in Reggio Emilia when required by the program
• Professional interpreters when required by the program
• Refreshments during coffee breaks each day
• Lunch Mon through Friday at Pause Restaurant and a farewell reception Services provided by Angela Ferrario, U.S. Liaison for Study Groups to Reggio Emilia and by International Study Tours, LLC:
• Introductory meeting and welcome lunch on Sunday, October 16, 2016
HOTEL ACCOMMODATIONS:  Accommodations for 7 nights are included from check-in on Saturday, October 15 to check-out on Saturday, October 22.  To accommodate our group, blocks of rooms have seen reserved at three and four star hotels within 10 to 20-minute walking distance of the Loris Malaguzzi International Center. Rates for accompanying non-participants and for additional nights are available upon request. Every effort will be made to honor hotel preferences while the priority is to keep groups from the same school/organization together.
AIRFARE: Participants must arrange their own flights and cover the entire travel expense. Expedia shows an airfare of approximately $1,200 (Round Trip – Indianapolis-Bologna). Bologna Marconi is the most convenient airport to reach Reggio Emilia. Alternatively, you could fly to Milan Malpensa or Milan Linate. Participants should arrange to fly on Friday, October 14, arriving in Reggio Emilia on Saturday, October 15 (departure from the U.S. is one day prior to arrival in Italy). Our first group gathering in Reggio Emilia is the introductory meeting and welcome lunch on Sunday, October 16 at 12 noon. The Program begins Monday morning and ends on Friday, October 21 at approximately 6:30 p.m. Hotel check-out is Saturday, October 22 by 11 a.m.
FARE FROM ARRIVAL AIRPORT TO AND FROM REGGIO: Please plan for transportation from the airport to Reggio Emilia and back. The cost will vary depending on type of transportation (bus, train, etc.).
PASSPORT: You must have a current, valid passport. Cost is approximately $135.
ADDITIONAL MEALS AND PERSONAL EXPENSES: Varies by participant and length of stay.
PHOTOGRAPY & VIDEOTAPE POLICY: For privacy issues, participants are not allowed to photograph or videotape inside the infant/toddler centers and preschools, inside the Exhibition area and the Ateliers at the Loris Malaguzzi International Center, as well as during the presentations. Reggio Children's policy allows the possibility to audio record the presentations.
REGISTRATION: A $500 deposit is required to reserve a space. Please mail check deposit made payable to Butler University and Registration Form on following page to:
Susan Adamson
Butler University College of Education
4600 Sunset Avenue
Indianapolis, IN 46208-3485.
Confirmation and Invoice for Balance Due will be sent by email. Payment Balance is due upon receipt of invoice but no later than September 12, 2016.
Download the Reggio Emilia Study Tour Flyer