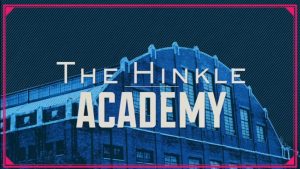 The Hinkle Academy for Wellness and Sport Leadership is an online graduate program experience, preparing front-row leaders in wellness, sport, and allied fields.  You'll learn about leadership through the lens of sport and wellness and The Butler Way, which "demands commitment, denies selfishness, accepts reality yet seeks improvement every day while putting the team above self."  You'll also be connected with sport and wellness organizations in Indiana's sports-rich environment.
Are you or someone you know interested in personal and professional development to improve career trajectory and marketability?  The Hinkle Academy certificate is a great option for those wishing to expand their expertise, including:
Current and future Butler alumni
Licensed teachers and coaches in all sports at all levels
Volunteer coaches affiliated with schools, churches, community centers, and fitness centers
Professionals employed in sport and wellness
Individuals seeking career change or entrepreneurial opportunities in education, sports, athlete development, fitness, recreation, and wellness
In this curriculum video excerpt from the Hinkle Academy for Wellness and Sport Leadership, Todd Lickliter '79, Bulldog head men's basketball coach from 2001–2007, talks about Brad Stevens and other Butler University coaches handling less recognized, "little jobs" of coaching with the same care given to larger matters, and he talks about passing this lesson onto players.
Want to know more? Visit Hinkle Academy for Wellness and Sport Leadership to learn about the admission process, plan of study, tuition and more.  The Hinkle Academy offers two eight-week sessions of the fall course. Session A is August 23–October 17, 2017. Session B is October 18–December 12, 2017. The application deadline for the first fall session is August 21. The second fall session application deadline is October 17.  There's still time to apply!
For questions, please contact HinkleAcademy@butler.edu or Dr. Mindy Welch, Program Coordinator for the Hinkle Academy, at mwelch@butler.edu.