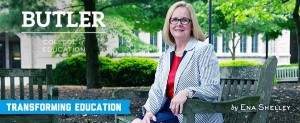 "Peace begins with a smile."
—Mother Teresa
EDITOR'S NOTE: On Friday, September 28, 2018, the College of Education officially cut the ribbon on its new home. While this was the opening of a new physical space, the event marked a deeply symbolic opening of a new chapter for our beloved College as well. Below are the remarks from Butler University College of Education Dean Ena Shelley and Butler University Provost Kate Morris that were given as part of the ceremony.
Welcome Home
"We value space, to create a handsome environment and its potential to inspire social, affective and cognitive learning. The space is an aquarium that mirrors the ideas and values of the people who live in it."
—Loris Malaguzzi
Remarks by Dean Shelley
Welcome to all of the friends of the College of Education who are gathered today for this very special moment in the history of the college. This is a moment…a moment that fills my heart and soul with gratitude to so many people who made this possible.
Thank you, President Danko, Provost Morris, the Butler Trustees and Emeriti Trustees for having a vision of what this purchase will mean to the future of Butler University. Thank you, Bruce Arick for the months of negotiations that you endured and for allowing the COE to dream big.
A special thank you to the College of Education Board of Visitors who have never given up on this dream. Your support and encouragement has meant more to me than you could ever know.
I want to thank Kevin Shelley, Sarah Hempstead, and Liam Keesling from Schmidt Architects for working with an amazing core team of COE faculty and staff; for listening to our needs and dreams and turning them into reality.
Two very special friends of the COE are Tony Hentrup and Lee Buchanan from Wurster Construction. We feel like you are now honorary members of the college and you have been absolutely delightful to work with. Steve Hodgson has to be very proud of you as well.
The College of Education has adopted Colin Moore (Project Manager, Butler University) as one of our own. Colin has handled so many moving parts in this project and has demonstrated extraordinary leadership. His good nature, brilliant mind, and work ethic have been critical to the success of this entire endeavor. I have learned so much from you Colin and I am grateful.
All of these wonderful people have touched the future by creating these amazing environments in which we will prepare educators who will impact thousands of lives.
Many of you have heard me speak of the Reggio Emilia concept of "environment as the third teacher." Architects understand this principle as well and one of my favorite architects is Treung Lee- we actually did the inaugural TEDx Indianapolis together.  In Treung Lee's book, The Environment as the Third Teacher, he wrote:
"The child starting kindergarten this fall will graduate in the 3rd decade of the 21st century. All we know about the world she will step into is that it will have challenges and opportunities beyond what we can imagine today, problems and possibilities that will demand creativity and ingenuity, responsibility and compassion. Whether this year's kindergarten student will merely survive or positively thrive in the decades to come depends in large measure on the experiences she has in school. Those experiences will be shaped by adults, by peers, and ultimately by places, by the physical environments where she does her learning. United in the conviction that environment is our children's third teacher, we can begin anew a vital mission: designing today's schools for tomorrow's world……Look at your learning space with 21st century eyes: Does it work for what we know about learning today, anticipate for the future, or just for what we knew about learning in the past?"
Everyone who has worked on this project has been a part of thinking about learning today and in the future. Teaching is a noble profession and it is not for the faint of heart. There is not one student at Butler who did not get here without great teachers.
I have hoped for this space, this day, more times than one can imagine. Jim Rohn wrote, "Ask yourself, 'How long am I going to work to make my dreams come true? I suggest you answer, 'As long as it takes.'"
For my wonderful COE colleagues and students, you have earned this space and the possibilities it offers. THIS IS YOUR CANVAS, YOU ARE THE MASTERS, NOW PAINT THE MASTERPIECES YOU HAVE BEEN DREAMING OF.
Remarks from Dr. Kate Morris
Chairman Sandhu, President Danko, Dean Shelley, faculty, staff, students, and distinguished guests, it is a true honor to have a few moments to speak at this incredible moment in time for Butler University and our College of Education.
I distinctly remember my first introduction to Butler's College of Education, which occurred during my second year as a faculty member in the Department of Psychology. In October of 1997, Joe Lamberti, now emeritus professor, invited me to speak with students in his COE honors course. I remember being both delighted and nervous about this, and thoroughly enjoyed my time with the COE students that day.  I also recall the first time I ever met Dean Ena Shelley—when I was asked to serve on an LAS Dean Search Committee chaired by Dean Shelley.
Just as my experience with those COE honors students made me understand how special our COE students are, it was my committee service under the leadership of committee chair Dean Shelley that taught me how special she is.
Along the way over the years, I got to know many COE faculty through service on committees and through my work with COE to ensure quality in secondary education certification in social studies. And of course, my role as Provost has allowed me even more opportunities to get to know COE personnel and to observe the excellence that they exhibit every day.
To a person, everyone I have ever met in the COE, whether student, faculty, staff, BOV/DAC member, or alum—these are remarkable individuals working toward a bold goal of making the world a better place through the education of our nation's children—our leaders of the future. They do this with grace, kindness, and patience in a national and state context fraught with the demands of accreditation, rhetoric blaming teachers for larger societal problems, and in the midst of a sea of non-education experts seeking to reform our educational system.
And in the midst of a tumultuous social environment, what has our COE done?
We adopted the Reggio Emilia and infused it on our campus and in our lab schools. As you tour this building, I'd encourage you to ask questions about the design of the learning spaces—there is a reason for every design element.
We created a lab school with IPS. Not only is it highly unusual for a private institution to create such a partnership with a public urban school district, but it was so successful, IPS asked for another one.
We created significant and meaningful partnerships at multiple other schools around the city.
We built experiential education opportunities into the fabric of our students' education from the beginnings of their time at Butler.
We send students to New York City and around the world for their student teaching experience.
We provide graduate students with programs that are widely viewed as the best such programs in the city and state.
These are remarkable accomplishments in complicated circumstances. And these accomplishments are possible because of the people—our amazing students, our talented and dedicated faculty and staff, and our fearless leader Dean Shelley.
I want it to be very clear to all my COE colleagues and students—you are in this wonderful new facility because you earned it. You deserve a space as innovative and special as you are. And I'm delighted to have been a part of the effort to move from a seemingly impossible idea to the reality of this new home for COE.
Congratulations on your many successes, and I look forward to seeing what grand new ideas come from your work in your new professional home.
Dr. Ena Shelley
Dean, College of Education
_______________________________
The Ribbon Cutting wasn't the only celebration for the College of Education on September 28, 2018. We were also thrilled to welcome home Katie Doane Moore '08 who was the featured alumni speaker at the State of the University Address. You can hear her amazing remarks here.