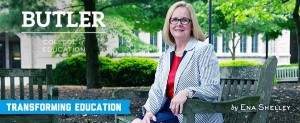 "Peace begins with a smile."
—Mother Teresa
It feels like the world is in need of more peace, including in our daily lives. I know when I need to find peace and hope, I head to a school because I will always find it there. To an outsider, a school may feel chaotic, but if you know where to look and listen, you will find peace and joy. It begins with a smile.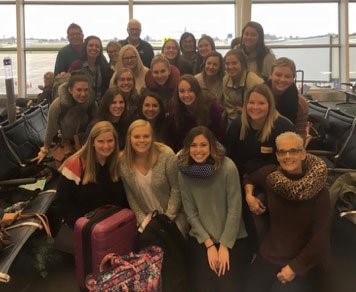 The photo is of a recent Butler College of Education study trip to Reggio Emilia, Italy. I have been fortunate to study there many times and each time I am inspired by peaceful and joyful environments and experiences they create for their children. The children are accustomed to people from all over the world entering their schools, and consistently visitors are greeted first with a smile—a universal language. On this trip, I had the opportunity to visit the Anna Frank school named in honor of Anne Frank. I saw some lovely invitations to have tea created by the children and the message read, "Ours is a gentle school because it invites children to grow. You can do nice things here as Anna did and wrote in her diary." Taped on the opposite side of the message was a tea bag. I smiled. Could our lives be more gentle and peaceful if we started with kindness and a cup of tea?
What would this look like at the middle school and high school levels? Don't children of all ages want peace? Do our schools feel gentle or harsh? Are they places that invite all children to grow? During one of the lectures on the study trip, we discussed the subject of migration. People fleeing horrific circumstances wanting a better life for their families appears to be a universal issue. No matter where one may stand on this complex issue, we should remember to think about children and the role of education. The following passage written by a child was posted in the entrance to the Anna Frank school and I stood transfixed while reading it (and with tears falling on my paper as I copied the words):
"Good Anna, you save hope in beautiful preserve jars. You saved it so well so that it helps, you save a lot, and it is enough that a lot came to us too. And we spread it into sandwiches in this school made of children, who after all, don't need anything but this. And so, listen to this dream I had. We were playing all together hide and seek and you laughed and I counted and you hid. You hid behind that closet. I counted to a thousand and the radio says the war is now over. And so I find you, and you say "home"! The dream like this cannot be made now. Yet another is possible, and we know how. We make home in a school and give that school your name."
—Bruno Tognoline
How many of the children of all ages that we as educators serve are saving hope in a jar? How many of our students need for school to be a safe home? How many of our students, colleagues, and families are longing to be seen and to receive the simple gift of a smile, a hug, a kind word? What could happen if each of us practiced Gandhi's message of being the change you want to see in the world?
When I am walking, I make every effort to smile and speak to each person I see because I feel like too many people feel invisible. Let's make 2019 the year that brings peace in our lives and a feeling of being seen by all those we encounter. It isn't hard; it begins with a smile.
With gratitude and peace,
Dr. Ena Shelley
Dean, College of Education