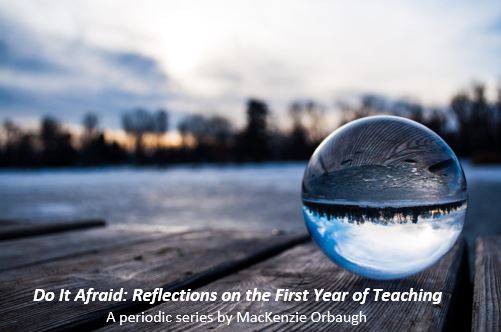 Editor's Note: Ms. MacKenzie Orbaugh is a 2019 graduate of Butler University's College of Education.  She has generously agreed to document her journey during the first year of teaching to better inform, prepare and celebrate the challenges and opportunities that preservice and new teachers face.  Her series will be featured on the Butler COE Blog throughout the 2019-20 year.  Ms. Orbaugh teaches Kindergarten at Boone Meadow Elementary in Zionsville, IN.
The First Day
By MacKenzie Orbaugh
This is the day that I waited four years for. This is the day I spent months planning for. I could not sleep before this day came. Thoughts were rushing through my head and butterflies consumed my stomach. I dreamed up how this day would look for so long and it was finally here- I would never get this day again. Breath in. Breath out. Soak it in. I was going to remember this day for a lifetime.
The first day of school.
I woke up early. I had the perfect outfit. A yummy lunch was packed and ready. It was finally here. And then it was gone.
It was a blur.
The day went faster than I ever could have imagined. And do you know something else that I had heard but I never really believed? The plans that I had spent weeks creating, that I spent so much time crafting- barley got touched. I could not believe it. I blinked, and the day was over. All of the sudden all of the wonderful things that I had planned were still waiting to be done. Now, I am not suggesting that you do not plan out the first day of school, in fact looking back that might be tragic. I believe that the whole process of planning the first day and the first week of school is extremely beneficial to yourself as an educator. It allowed me to think through the days and reflect upon the first day of school in which I observed during student teaching.
I believe one of the most beneficial things I did during my time student teaching was create a big list. I started on the first day of school making a list of all the procedures, expectations, and guidelines that were taught and how they were taught. Each time I noticed another routine being taught I wrote it down. I felt like I was always writing or scribbling down something else I saw. I watched other teachers in the halls and carefully noted how even the smallest procedure like putting a paper back in a writing folder was intentionally taught. This supported me in creating my own lesson plans and gave me something to go back to when I was feeling like I was missing something. But- when you are planning for this first day and the first week and even the first month, you are planning for students that you do not even know yet.
The plans that I made during these first days and weeks of school were crafted for kids that I had never met before.  I realized and was faced with the realization that either my kids had to change to meet the expectations of my plans or I needed to change my plans to meet and support the expectations of my kids. The first few days of school allowed me to get a glimpse of my who my kids were, and I was able to come back the next week with plans that were tweaked a little bit to better fit their needs and that were crafted around my students.
When thinking back on my first days and weeks of school I feel as though I can boil down my advice to simply this-follow the child.
Tangibly during the first days and weeks following the child means trial and error. You must figure out what works and what doesn't work for students. How can I use what I know about them to enhance the lessons and change them to better meet their needs? Sometimes you can plan all you want but until you know who will live out those plans you truly don't know if they will work or not.
So, what is more important than the lesson plans? Getting to know the tiny humans that will be spending their days in the classroom. Building relationships that will allow you access into their lives so that you know how to teach them best and being willing to take a deep breath and realize that maybe the plans you spent hours creating are truly great plans. Honor your hard work and the thought you put behind them, but make sure those wonderful plans are crafted and centered around the needs and knowledge you hold of the ones who will bring those plans to life.