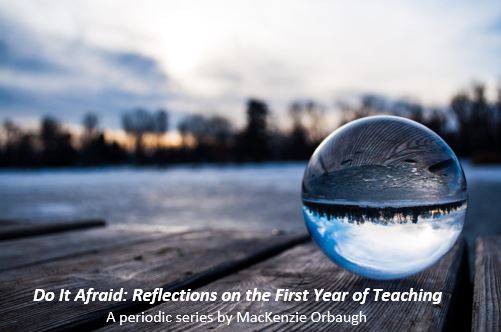 Editor's Note: Ms. MacKenzie Orbaugh is a 2019 graduate of Butler University's College of Education.  She has generously agreed to document her journey during the first year of teaching to better inform, prepare and celebrate the challenges and opportunities that preservice and new teachers face.  Her series will be featured on the Butler COE Blog throughout the 2019-20 year.  Ms. Orbaugh teaches Kindergarten at Boone Meadow Elementary in Zionsville, IN.
Rest. This is a word that does not often align with our profession of teaching. I am not sure anyone would describe days at school as restful. It seems like from the time I arrive at 6:45 a.m. to the time I leave around 4:00 p.m. that I am running around, moving about, and constantly doing something. There are not very many moments where I find myself sitting down to rest. There are even days where my lunch takes a back seat to the "To Do" list. There are meetings, planning, prepping, teaching, supporting and so much more to attend to. It feels as though there are not enough hours in the day to do everything and do it well.
When I leave school, I often go home, and I think more about school. I spend some nights continuing to prep and plan. I think to myself that this is what I have to do in order to support my students the best.
The week before winter break, I felt myself burning out. I was tired physically and emotionally from two quarters of what felt like an all-out sprint. I decided I would plan the week back from winter break prior to leaving and make sure when I came back everything was ready to go. What I did not know was that this would be one of the greatest gifts I could have given myself. I worked hard and planned and prepped everything for the week back to school. When I walked out of my room on that Friday, I knew it would be ready for me in two weeks.
What followed that Friday was 14 days of rest. Did you read that? 14 full days of rest- not planning or prepping for school. It did not look like lounging around all day doing nothing, although some of the time that is what I did. Those days looked like refilling myself with friends, family, and finally doing things that I enjoyed doing but felt like I couldn't do because of the work I had for school. Those 14 days allowed me to see how poorly I was taking care of myself.
In a job like teaching where you constantly are pouring more and more of yourself out, I cannot tell you how vital it is to make sure you are filling yourself up as well. I used to believe that I had to push through and get everything done in order to be the best for my students. Now I know that I cannot be the best for my kids if I am not resting and filling myself up as well. Instead of knocking everything on my "To Do" list out, I have learned to prioritize that list. I have learned to be okay with the list still existing. I have seen myself be a better teacher when I take time for myself. If I could start the whole year over again, I would have forced myself to rest and do things that fill me up from the start. We need to go against the grain and take care of ourselves. We will be better teachers for it. If anything, do it for your kids. They deserve the best you that you can be and resting and refilling is the only way to do it.