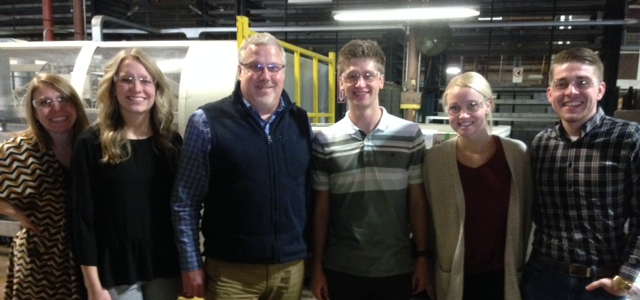 The internship hunt for an undergraduate student who is hoping to make an immediate impact at an organization is, well, stressful. The entire search is much like a game of Plinko, where the students are the round discs, the bad interviews and denials are the pegs on the board, and the perfect organization for our talent is one of the slots at the bottom. Fortunately, five of those anxious discs (students), including myself, were able to land in a slot at the bottom of the board and join the Butler Business Consulting Group (BBCG) as Student Analysts at the beginning of the Spring semester 2018.
When asked why he chose the BBCG, Nolan Schloneger, a senior Economics major with an Ethics minor, did not hesitate to answer.
In reflecting upon his experiences, Nolan believes that his expectations were not only met, but they were exceeded. He has had the chance to work with six different clients in a variety of different industries such as manufacturing and technology. With the wide variety of experiences, Nolan has been able to acquire valuable skills, such as industry research and professional writing, which he believes will benefit him in his fulltime position after graduation.
One of Nolan's fellow interns, Jana Olson, a senior Marketing major, "was looking for hands-on, high caliber work." The BBCG fit her internship checklist perfectly.
Jana has remained impressed and challenged throughout her entire experience at the BBCG thus far. She has learned how to manage her time wisely among different client projects, take on new and exciting challenges (although sometimes tedious), and is proud of her success in absorbing everything the BBCG has to offer its Student Analysts. Jana was also able to serve as the intern training coordinator, a responsibility given to one intern who oversees the logistics, scheduling, and feedback of the weekly training sessions the interns attend. Topics ranged from Marketing 101 and Finance 101 to the "401(k) Game" and an intern alumni panel.
I must say, the BBCG has given me, just like Nolan and Jana, the ability to grow as a professional and as a person. Being face-to-face with a client while discussing the future of their business, their life's work, can be difficult at times, but this is why we chose the BBCG. We wanted to, or needed to, rather, have these valuable experiences in order to become effective, pragmatic, and auspiciously adept individuals.
We follow in the footsteps of past BBCG interns who now hold positions at Google, Lilly, EY, Roche, Deloitte, and many other incredible companies. Although we are traveling in different directions upon graduation – some to graduate school, and some to fulltime positions with Indianapolis organizations – we are entirely grateful for the knowledge and experiences we have gained at the BBCG. It is safe to say that if this were a game of Plinko, we fell into the best slot: The Butler Business Consulting Group. Learn more about the internships at the BBCG and check for current internship opportunities.