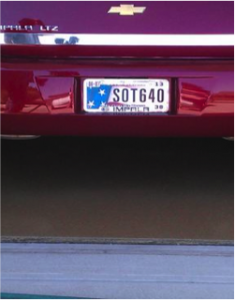 Brenda Shelton
Reporter, 5 Rights News
There's a problem inside John Hoover's garage and on roads throughout Indiana.
About 900 license plates have been issued to Hoosiers with the letters S-O-T –  letters Hoover  considers offensive. He wants the license plate replaced without the S-O-T prefix which according to Webster's Dictionary refers to a habitual drunkard and dates back to the late 1500s.
"I really wasn't too satisfied with having to drive around town with that implication on my driver's plates,"  said Hoover who has two cars with the plates. But the Bureau of Motor Vehicles  has refused to issue him a plate without cost because the word isn't commonly known in today. Instead, the BMV will charge Hoover $10 to swap out the plate.
"It's really a kind of an old English word, an old usage, archaic usage, that is not common parlance today. For that reason, we don't see the need to eliminate that word." says Dennis Rosebrough, a BMV spokesperson.
When issuing license plates, a combination of letters and numbers are randomly selected and afterward, a committee reviews the plates to make sure no phrases are  inappropriate.   SEX, SIN, YUK, SOS, WTF, and WWF are among the phrases that are automatically rejected.
"We really take this seriously," said Rosebrough. "We don't want to put something on the back of a car that is offensive to the general public."