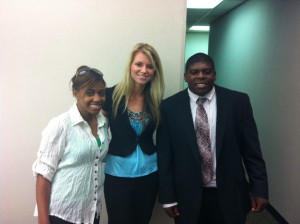 By Ridley Morgan
5 Rights | staff writer
Borshoff is a public relations and marketing company in Indianapolis founded by Myra Borshoff Cook in 1984 with a focus of keeping the clients' best interests at heart. The company supports a team of 56 people, led by the four principals of the corporation: Myra Borshoff Cook, Erik Johnson, Jennifer Young Dzwonar, and Susan Matthews. Whitney Ping, a new hire at Borshoff, explained the company as a group of people that is capable of a lot of different things when it comes to communication. "There are many faces to Borshoff," she said.
Ping started as an intern in January and was given various accounts to work on. Her work schedule started as three full days per week, and she was offered a full time position in March, which she accepted in May after graduating from IUPUI. Ping described Borshoff as "a unique and welcoming environment" where she was "able to really learn a lot in a short period of time."
Inside Borshoff is a brand new office space called the "build out." It started as a desolate office space for four employees. "The way we had set it up, it was very isolating," said Jennifer Young Dzwonar, principal of Borshoff. So it was turned into an employee meeting spot called the Atari bar, referring to the universal video game network, and after that, it was once again determined that more office space was needed. The new build out space has five offices with "shower doors" as numerous employees like to call them due to the similarity in style to shower sliding doors. "I was a little jealous that I didn't get one of the new offices, because they are very cool," said Ping.
The transformation took approximately six months to complete. The company had a vision of two offices facing another two offices with an aisle between, but the decision was made to have all of the offices along one wall facing outside windows to bring in light. Dzwonar described the build out as "a nice combination of quiet and work." "[The employees] have told us they love it!" she said about employees' response to the new area.
Borshoff's future plans for the build out consist of replicating the same layout on the lower floor. After having seen the effect of the atmosphere and the color scheme's changes, Dzwonar said that "it sets the tone for the future." Dzwonar and her three principal colleagues plan on continuing forward with the plans for the build out and also for the company as a whole.
Filed Under: Feature