The shopping cart allows you to pre-assemble your desired classes for an upcoming semester before your enrollment appointment opens and validate your eligibility to enroll in those classes. You can build your schedule in the shopping cart, complete with permission numbers if necessary, and then simply enroll in those classes when your enrollment appointment opens.
Note: Adding classes to your shopping cart does not guarantee enrollment in a class.
The shopping cart becomes available before each semester on a day specified in the Enrollment Dates section of your Student Center page. This message will note the date that the shopping cart will become available for the upcoming semester.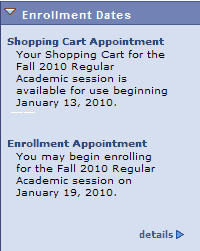 While the shopping cart is active, the

 button will appear below your list of classes. When you validate a class, your class selections are checked just as they are during the registration process. Errors due to missing prerequisites, co-requisites, course repeats, time conflicts and unit limits will appear during shopping cart validation. This gives you a chance to change your schedule, get a permission number, etc., before actually enrolling in a class.
You can validate up to ten classes, and you can validate classes as many times as desired. You might validate your shopping cart after seeing your advisor, and then validate it again just before your enrollment appointment opens to make sure you won't have any problems enrolling in the classes you want.
See the following topics for more information.