Pre-Welcome Week Programs
Connect with Campus Early
Why wait until Welcome Week to meet fellow bulldogs? You can serve within the community, hone your leadership skills, prepare for college life, learn what goes into planning a major sporting event, or have a wilderness adventure. Regardless of which you choose, start connecting with other Butler students early! Applications and registrations processes for the programs below are now OPEN! Click the tab to see more information about each program, including a link to register.
For questions and concerns, please contact the office of Programs for Leadership and Service Education at (317) 940-9262 during office hours of 9AM-5PM ET, or at orientation@butler.edu.
Ambassadors of Change (AOC) is a week-long program that focuses on service and leadership. Participants will engage in daily service projects, discuss social issues with classmates and community members, and work on small group projects. Fun evening activities round out each day, providing plenty of opportunities to get to know classmates and the city of Indianapolis! Learn more at the AOC Webpage.
What past participants have said:
"I loved every moment of AOC. My most favorite experience was when all of us went to the Paramount School. It was really eye opening and impactful to watch everyone working together as a team."
"My most meaningful moment of this program was helping at Gleaners which greatly increased their productivity for the day by sorting 7,000+ pounds of food that would have taken longer without AOC's help. Also, helping the lone employee of Indy Urban Acres was very meaningful because the work we did wouldn't have been completed in a day with just the one employee."
"AOC taught me not only how to get involved in the community, but also how to step up as a leader and do what needs to be done. It taught me how to be more open about who I am and my experiences which I can definitely use in the future as a way help others and even become more of a leader and an active citizen."
Who: First year students who have a passion for community engagement, leadership, and service. Participants should be willing to work hard while having fun with a schedule that is power packed & a week full of life changing experiences.
When: Early residence hall move in Monday, Aug. 14th. Program begins at 2 p.m.
Cost: $260 includes transportation, meals, and activity fees.
Bring: Work clothes and a refillable water bottle will be needed for service projects. Student will be informed regarding more specifics once they are selected for the program.
Maximum: 66
NOTE
: Ambassadors of Change is an application-based program. All information regarding the application process can be found under the Frequently Asked Questions section on the
AOC
home page.
BECOMING #BULLDOGSABROAD REGISTRATION
Embark on a 10-day program to London and Paris before your Butler classes even start! This unique opportunity, available for up to 12 incoming first year students, is offered in cooperation with our institutional partner, IFSA-Butler. An exciting travel itinerary has been designed to combine tourism with several visits to overseas schools to introduce you to some of the many study abroad opportunities available to you during your time at Butler. Throughout the program, you will also learn about study abroad policies at Butler and how to work with your academic advisor to build study abroad into your four years at Butler. You will grow your confidence and capacity to travel overseas, as well as create strong friends with fellow first years before beginning your semester at Butler.
What past participants have said:
"This program gave me the confidence to come back from the trip and face starting college with ease!"
"Every day, every minute, was filled with amazing opportunities and adventures."
"This opportunity gave me the independence I needed and made living away from home so much easier."
Who: Anyone interested in international travel.
When: Early residence hall move in Tuesday, August 8. Travels begin Wednesday, August 9 and we will return to Butler on Friday, August 18.
Cost: $3,600 includes international airfare, housing, activities, some meals, & transport to Paris. This will be added to your Butler Student Account for payment with the Fall 2017 charges.
Maximum: 12
Application Instructions: To secure your spot in the program, email the following to Calie Florek (cflorek@butler.edu):
A completed Becoming #BulldogsAbroad application (found on the Becoming Becoming #BulldogsAbroad website)
A clear, scanned copy of your passport
A one-page, double-spaced personal statement explaining why you want to participate in this program.
EXTENDED Application Deadline: June 1, 2017
A full itinerary, more information on the program, and the application can be found here.
Dawg Days acquaints new, underrepresented, domestic, and international students with current students, faculty and staff in a more intimate setting. Participants will engage in academic enrichment, service-learning, and leadership workshops, and complete a volunteer service project to facilitate holistic student development. Social activities including a trip to Kings Island Amusement Park, an Art party on Mass Avenue — the trendy arts and cultural district downtown Indianapolis — and a Cosmic Bowling party highlight the weeklong program agenda.
What past participants have said:
"Participating in Dawg Days was the best thing I've done while attending Butler. The impact of the Dawg Days experience on me will last forever. From this program, I've made diverse, lasting friendships, discovered numerous opportunities, received advice that saved me from negative situations, both academically and personally, and so many other positive attributes that shaped me into the successful student I am in my second year."
"Dawg Days helped me make friends with individuals that I am still friends with, and it has honestly helped mold me into the young woman I am now at this point in my college career. Dawg Days gave me a safe haven at Butler – the Diversity Center".
"I participated in Dawg Days as a first-year student and it was such a memorable experience. I met some of my best friends through this program and I would like the chance to be the reason why someone else says the same next year".
"I am interested in being a Diversity Ambassador in order to give back to the program that gave so much to me. I had a great first year at Butler thanks to Dawg Days and I would like to recreate the same experience for incoming first-year students. The academic workshops were invaluable in preparing me for the classroom".
Who: Any first-year or transfer student with a passion and commitment to Diversity, academic success, leadership, and social interaction and engagement.
When: Early residence hall move in Tuesday, Aug. 15. Program begins with a Welcome Dinner at 7 PM
Cost: $200 includes transportation, meals, and activity fees
Bring: Lots of energy and enthusiasm!
Minimum: 15
Maximum: 35
For more information, including the full program schedule, visit the Dawg Days Webpage.
Credit Card Form:  https://butler.formstack.com/forms/dawg_days_2017
Check/Money Order Form: http://butler.formstack.com/forms/dawg_days_2017_checkormoneyorder
INTO THE CITY REGISTRATION
Your new city, Indianapolis, recently appeared alongside Copenhagen and Melbourne on Metropolis magazine's list of nine global cities to watch. Yet, this exciting, growing town is incredibly accessible! Let us show you the way to places and people and ideas that can profoundly impact your college years and inspire your professional future. Explore the diverse corners of your new city through an all access pass to Indy's cultural districts and their social, professional, and natural hot spots. Meet young professionals and seasoned leaders who work in nonprofit, private, and government businesses that define and are connected to Indianapolis' vibrant downtown. Begin to envision where your personal passions and academic interests can be put into action on campus, in the city, and beyond. Enjoy sit-down dinners and networking parties with Butler alumni and diverse local professionals in beautiful, eclectic, and inspiring spaces in the heart of Indianapolis. Come have fun with Butler staff, faculty, and alumni as well as fascinating, local professionals and civic leaders – all of whom will become part of your valuable academic and career network before you even step into your first class at Butler!
Who: Urban explorers of all kinds
When: Wednesday, August 16 through Friday, August 18, 2017
Cost: $300 (includes all meals, transportation, fees, and other costs
Bring: Business casual attire (i.e., nice pants/skirt/shirt/shoes) and business professional attire (i.e., professional suit jacket/dress/shoes), in addition to your street/casual clothes
Minimum: 6
Maximum: 16
Application Link: https://butler.formstack.com/forms/intothecity2017
WELCOME TO SPORTS TOWN REGISTRATION
Welcome to Sports Town! explores how large sporting events like the Indianapolis 500, NCAA Final Four®, and the Super Bowl are coordinated. By tapping into our vast Butler network, our goal is to explore many aspects of preparing for center stage, world-class events. We will be meeting with key members of sports associations, visiting venues, and considering the impact of the sports industry on the region.
Check out Welcome to Sports Town!
What past participants have said:
"I want to thank you for helping to make my transition to college easy and fun. I am now at ease. I feel as though I have a great group of friends and I am one step ahead of the game."
"Participation opened my eyes to a career I had never imagined but now I know it encompasses many of my strengths and passions."
"I already feel at home because of the early days.  I know my campus, I know some faculty, I know my city and I made friends!"
Who: Sports fans; those interested in sports, recreation and/or event planning as a career interest.
When: Early residence hall move in Wednesday, Aug. 16. Program begins at 3:00p.m.
Cost: $240 includes transportation, meals, and activity fees.
Bring: A jersey from your favorite sports team.
Minimum: 12
Maximum: 30
Welcome to Sports Town is full at this time. Please email studentaffairs@butler.edu if you would like to be placed on a wait list. We will not collect payment at this time, but will ensure that we confirm your participation status by July 20th if we are able to add you to the program.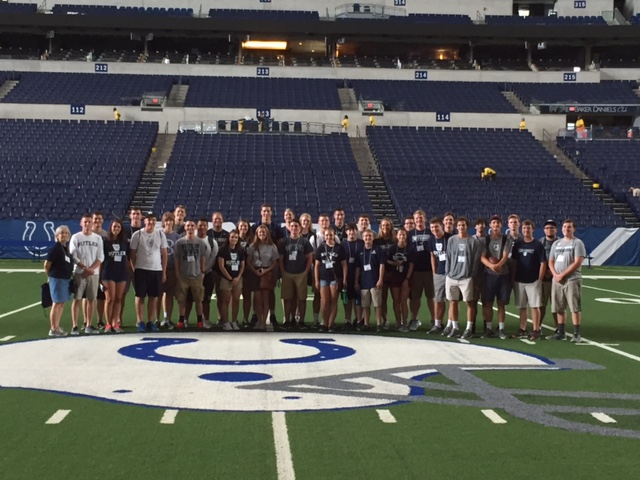 WILDERNESS EXPLORERS REGISTRATION
This program provides an adventure that begins by traveling from Butler to the Red River Gorge in Kentucky to hike and camp in the Natural Bridge State Park. You will also climb the Via Farretta at Torrent Falls Climbing Adventures and experience an awesome Red River Gorge zip line tour! You will then travel to Morengo Cave National Landmark in southern Indiana where you will experience a cave crawl tour, enjoy kayaking on the Blue River, and camping. On the final day of our trip, you will travel back to campus to take on Butler's High Challenge Course. Each of you will have the opportunity to establish a community and lasting friendships!
What past participants have said:
* "It was such an amazing experience and it really helped me feel so much more comfortable once we got back to Butler."
* "These activities allow to you to learn what you can do—encouragement, communication, and how to get through when you are stuck."
* "Simply amazing trip. It was a wonderful way to meet people!"
* "I got to meet so many people and form such great friendships."
Who: Outdoor enthusiasts willing to teach and learn new skills.
When: Early residence hall move in on Monday, August 14, by noon and leave campus by 3:00p.m. We will return Saturday, August 19.
Cost: $465 includes transportation, meals, equipment, and guides.
Bring: Clothing to keep you warm and dry and personal items. A suggested packing list will be provided.
Minimum: 8 participants
Maximum: 30 participants
Application Link: https://butler.formstack.com/forms/wildernessexplorers2017