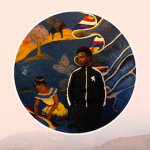 Alumnus Dogluas Manuel recently published four poems.
"Feels Like Rain" and "The First Time I See My Father's Blood Cleaned" are published in Figure 1.
 "Whose Little Boy Are You?" and "Little Fires Left by Travelers" are in Superstition Review.
Bonus! Listen to Doug's interview for KMSU Radio.
For the latest news on Doug, visit his website here.