Throughout the year, we'll be getting to know some of Butler's new MFA students. Recently, we sat down with first year poetry student Austin Boling to see how he was acclimating to life in the midwest.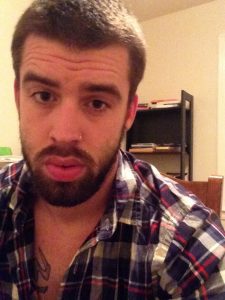 Where did you grow up? Where did you study before coming to Butler?
I grew up in Batesville, Mississippi, and attended Belmont University in Nashville, Tennessee.
What made you decide to come to Butler instead of all the other MFA programs out there?
What attracted me to Butler's MFA is how small and close-knit the community seemed, as opposed to other programs; having attended a community college in rural Mississippi and a smaller private University during my undergrad years, it's where I find myself to be the most comfortable and productive.
What's been your reaction to the city of Indianapolis thus far?
I'm not in the South anymore.
What classes are you taking right now?
EN-503, Poetry Workshop, and EN-501, Teaching Creative Writing.
What's impressed you most about the Butler MFA program?
How seemingly small of a program it is, yet a rapidly growing one at the same time. Also, the visiting writing series.
What was the last book you read and really loved?
Alex Lemon's collection of poetry, The Wish Book.