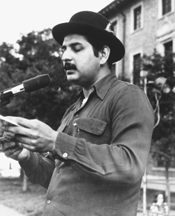 Puerto Rican poet Victor Hernández Cruz has made a habit of being ahead of his time.
At age 17, Cruz self-published his first book of poetry (Papo Got His Gun) on a mimeograph machine — well before the internet made book-minting something anyone can accomplish with a few clicks.
At age 18, he eschewed his senior year of high school to co-found a collective of writers and actors in Harlem and assume an editor position with Umbra magazine, still remembered today as a literary beacon for the Black Arts Movement. 
At age 20, he became the first Hispanic author published by a major printing house when Random House released his collection Snaps in 1969.
At age 32, he was named one of America's greatest poets by Life Magazine.
At the risk of continuing on and leaving every writer reading this feeling inadequate (or at least jealous), I'll note only one more of Cruz's firsts: that he will be the first up during Butler's Vivian S. Delbrook Visiting Writers Series for the spring semester–7:30 p.m. Tuesday, Jan. 28, at the Eidson-Duckwall Recital Hall.
Cruz once dubbed his verse "linguistic stereo," referencing his inclusion of both English and Spanish phrases in his poetry. But don't confuse this for butchered Spanglish. The poet deftly fuses dual languages to trumpet a new American music, taking cues from Octavio Paz and Tito Puente alike.
In his 1991 poem "Problems with Hurricanes," Cruz muses on the true fear of campesinos before the storm hits, a phobia that poetically echoes Lorca's famous "New York (Office and Denunciation)" — "This is not hell, but the street / Not death, but the fruit stand." Cruz puts a new spin on the adage by adding heavy winds to the equation:
Death by drowning has honor
If the wind picked you up
and slammed you
Against a mountain boulder
This would not carry shame
But
to suffer a mango smashing
Your skull
or a plantain hitting your
Temple at 70 miles per hour
is the ultimate disgrace.
Cruz's tragicomic rhapsodizing eventually dies down, and he is left with merely one nugget of profound advice for the world: that we should quit fretting over acts of God, and should instead "beware of mangoes / And all such beautiful / sweet things."
So don't fear the polar vortex that could bring us snow or subzero temps during Cruz's visit (note: I am not a meteorologist and in fact have no idea about the five-day forecast). And to reassure those firmly in Cruz's camp, fresh produce will not be served.
Without any valid excuses, you only risk shame by staying home.