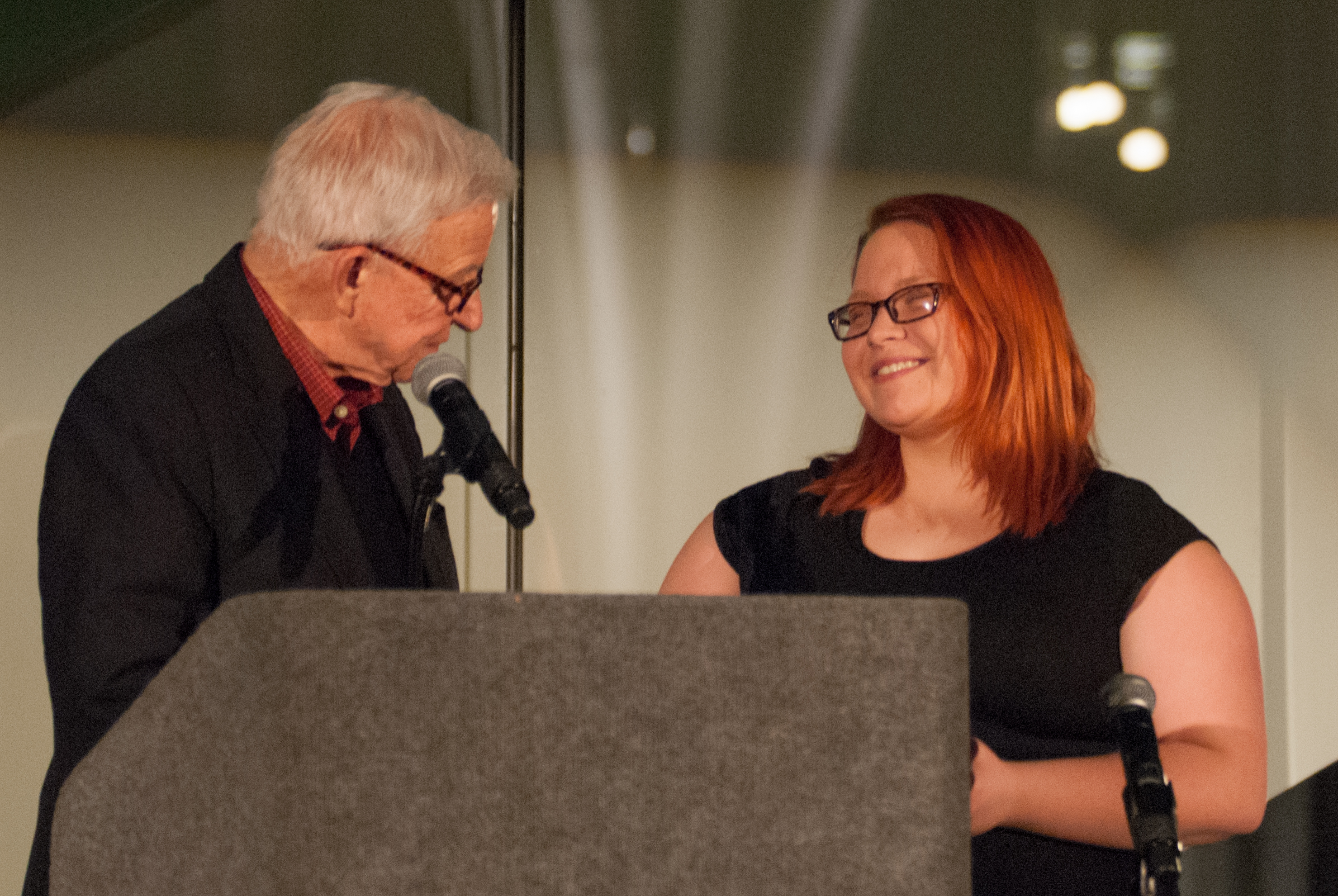 The Butler MFA department congratulates Writing In The Schools (WITS), the Jefferson Award-winning partnership between the Butler University Master of Fine Arts in Creative Writing program and Shortridge Magnet School. Two WITS high school students were honored at the Night of Vonnegut Gala with scholarships. Paula Cloyd won the Jane Cox Vonnegut Writing Award for her poem, and Isis Flores received the Kurt Vonnegut Memorial Library Writing Award for her essay. Shortridge alum Dan Wakefield, a friend of Kurt Vonnegut and the best-selling author of Going All the Way, presented the scholarships to Paula and Isis during the Night of Vonnegut gala at the Indianapolis Central Library.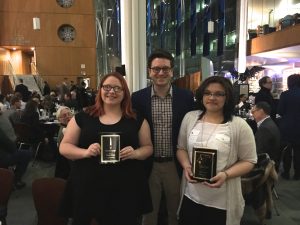 Christopher Speckman, the WITS director, was especially proud of the Seniors. He's watched them grow as people and writers. Chris said, "To see [Paula and Isis] up on stage receiving applause and receiving a great award is really touching. These students have persevered and now they have this scholarship money to take the next step to go on to college. This award is very meaningful to them and really makes me happy as an educator."
Butler MFA student Emma Faesi Hudelson is currently enrolled as a WITS mentor. She had the chance to work with Paula. Emma said, "Paula is bright and independent, and has a strong sense of rhythm and flow that allows her politically-charged poetry to really hit home."
Every semester Butler MFA students have the opportunity to take WITS as class to learn teaching and mentoring skills and put them into action at Shortridge High School.  Shortridge is a beautiful building rich in history. Kurt Vonnegut and Dan Wakefield are just two of its esteemed alumni. However, Chris believes what makes WITS so special is working with students like Paula and Isis. "The students are super motivated, creative, entertaining, and engaging. It is so rewarding, and it's part of what makes the Butler MFA so special," he says.
Recent Butler MFA graduate and former WITS mentor, Gerry Justice agrees. He said, "These young people–these beginner poem and prose writers–are the program. They demand our energy then replenish it at performance."
After gaining the experience of teaching, many WITS teacher mentors go on to a career in teaching, both in Indianapolis and abroad. Chris says WITS is how he began his career in teaching, but maintains the biggest reward of the program is working with students. "You are making a difference in the community and in the lives of students. Many of these students have rough lives. The opportunity to interact with people who come from different backgrounds, to give them the opportunity to succeed in situations where for some students writing is a way to something bigger, something better – to be able to contribute to that journey is the ultimate reward."
Gerry says, "Really, the education was primarily one way – from them to me…Yes, we are teaching each other, but mostly they are showing and telling us what it's like to grow up in today's bomb-exploding world. They are teaching us how to take cover, or to act brave, then document it. They hug and they laugh and they cry."
Emma, still in the midst of her experience as mentor says mentoring the kids can be challenging and trying, but "there are also moments that transcend, like seeing a student smile with pride after reading her work out loud."
For more information about Butler's Writing in the School program, visit their website or email Chris Speckman at cspeckma@butler.edu