Students in Butler's Writing in the Schools (WITS) class are a part of a unique experience mentoring Indianapolis teenagers through creative writing. Twice a week, a classroom normally used as a science lab at Broad Ripple Magnet High School for the Arts and Humanities is transformed into a place of creative collaboration between Butler University and middle and high school students. Fifteen mentors guided by professor Chris Speckman and an average of forty kids unite in the after school club. The room is full, busy with laughter, chatter, and creative writing.
One student tucked himself into a corner and wrote the entire two hours. When asked what he was working on, he said, "Just writing. Whatever comes." He pointed to his head and got back to work. Other students were more social. They shared ideas, questioned mentors, and cracked jokes.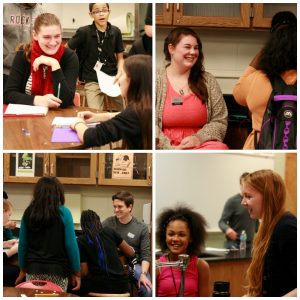 After eating a snack, the students join mentors in small groups. Speckman provides activity ideas and prompts, but the mentors are free to pursue their own ideas as well. MFA poetry student Natalie says she begins each session by talking with the students to see where their interests are that particular day. "Then I get them writing on that," she said.
Many Broad Ripple students come to the club because they love to write. One student said, "I love to write so much. I like to write short stories and coming together with others and the mentors makes me write better." Another student said he came because he has dreams of attending Butler one day. "Anything with Butler, I'm there." Alison, a middle school student said she comes to the club every week. "It's just a lot of fun. The mentors are all really nice and help me come up with good ideas." The mentors are a big reason why many of the students come every week. Tre'yonna, a regular at the writing club said, "I like how the mentors treat us. I like their personalities. They are respectful."
The mentors feel the same gratitude towards the students. Stephanie, an MFA fiction student said, "It's been terrific to see creativity flourish. I've learned different ways to approach kids and teach them how to write." She also admitted the students have taught her as well. "I learned you don't always have to take writing so seriously. Sometimes you have to let the words flow. Words are meant to flow."
There are few rules in writing club beyond safety and respect. MFA fiction student and WITS mentor Bailey said the purpose of the writing club is "pure fun." Bailey said about half of the participants come regularly. By building a relationship, trust is formed. Students open up and share amazing stories and ideas. "There's drama, a lot of laughs, and so much energy," she said. "And talent. The students are way more talented that I was [at their age]." Greg, an MFA fiction candidate, agreed, "There are tons of absolutely talented kids."
The club concludes with an open mic period showcasing student talent.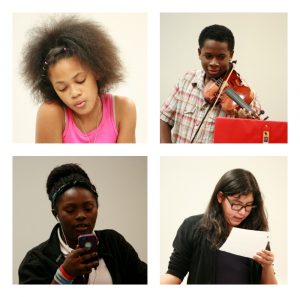 Many students share their voice through stories, songs, skits, and poems. Though every mentor commented on the talent of the kids, the positive energy and joy that filled the room was most impressive. It was unmistakable; the students truly enjoy spending their afternoon writing with Butler students.
WITS is a can't miss opportunity for all Butler MFA students. The experience is invaluable to a teaching resume, but the true reward is building friendships with people from different life situations, seeing the world through their lens, and making a difference in a child's life. For more information email Chris Speckman or visit the WITS website.