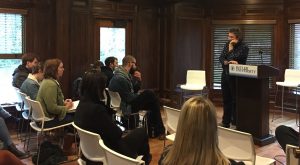 During his recent visit Butler University, esteemed poet Dean Young spent several days with Butler MFA poetry students. In addition to his public reading and student Q & A, Young attended a dinner with MFA poets, led a workshop class, and met with students for individual critiques. By the end of the week, the poetry students said they felt as if they were friends with the award-winning poet.
Young's advice and insights were indispensable. At the student Q & A, Professor Chris Forhan said, "Dean is all about imagination." Young addressed his imaginative style by saying, "Imagination is linked to reality. You write it, and it comes into existence. Imagination is a great part of the truth."
Young challenged students to push imagination within their own poetry. He also encouraged the young writers to not give up on their work. He said, "It takes fifteen minutes to write a poem, and you hate it for at least ten."
Dean Young was so enjoyed, he earned a high kick from Alessandra.