Hunter S. Thompson noted, "There is an ancient Celtic axiom that says 'Good people drink good beer.' Which is true, then as now." The Butler MFA is blessed to be in Indiana, where there are many options to drink good beer including over one hundred and twenty craft breweries.

Indiana is home to over one hundred and twenty craft breweries and is often listed in top ten states for best breweries in both variety and quality. The top three big dogs, Three Floyds, Upland, and Sun King, win awards and are distributed nationally, but the Butler MFA students have made their favorites among smaller gems close to campus.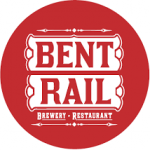 Chris Forhan, MFA professor in poetry, recommends Bent Rail Brewery. "It's a giant but welcoming space slightly hidden away just south of where the main action is," says Forhan. "The head brewer is Bradley Zimmerman, who spent years mastering the art of brewing in Seattle, including as an assistant to my brother, Kevin, who is a kind of Mount Rushmore figure in the Seattle beer world.  Bradley's concoctions are bound to be marvelous."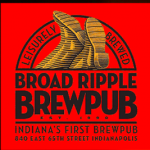 John Eckerd recommends the Broadripple Brew Pub. He says, "In my mind, the Broad Ripple Brewpub is the heart of the Butler MFA program. The atmosphere and menu are top notch. Nothing compares."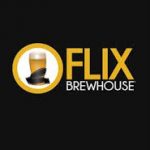 Bailey Merlin combines two loves: beer and movies at Flix Brewhouse. "It is divine. The whole restaurant/movie theatre is really doing it for me," says Merlin. "The theatres are small, but high quality, and the food and booze (the beer is made in house and is great) is delicious for a decent price."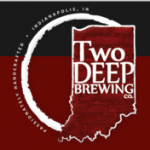 David Anderson can't get enough of Two Deep. "I really like the quieter vibe of the tasting room. Upscale warehouse decor and a variety of seating options lends itself to a big group or a date night," says Anderson.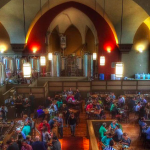 Mindy Dunn discovered St. Joseph Brewery & Public House located in a 135-year-old Catholic church. With owners bringing years of successful expertise (they also own Ralston's Drafthouse and Chatham Tap, and the head brewer pioneered Oaken Barrel Brewing Company), the food and beer are amazing. However, with beer named Holy Roller Oat and Confessional IPA, seating in a choir loft, a bar in the nave, and fermentation tanks dominating the apse, it is the ambiance that makes St. Joe's a must visit brewery.
Indiana also celebrates over twenty craft beer festivals yearly, including October's America on Tap, a venue offering samples from hundreds of breweries across the nation, so there will always be new beer to discover.
"Isn't beer the holy libation of sincerity? The potion that dispels all hypocrisy, any charade of fine manners?" – Milan Kundera

"God has a brown voice, as soft and full as beer." – Ann Sexton

"Beer's intellectual. What a shame so many idiots drink it." – Ray Bradbury

"For a quart of Ale is a dish for a king." – Shakespeare

"Without question, the greatest invention in the history of mankind is beer. Oh, I grant you that the wheel was also a fine invention, but the wheel does not go nearly as well with pizza." – Dave Barry