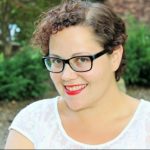 Congratulations to Butler MFA graduate, Laura Kendall. Not only is she a  new bookstore owner, she will also be published in Creative Nonfiction. One of the most prestigious and selective literary magazines in the country, Creative Nonfiction is an achievement for any nonfiction writer. Laura said, "This was the only place I submitted this piece, because I didn't want it to go to just any publication. I'm pretty happy I aimed big with this one."
Laura read part of the essay, "An Equation, Solve for Father," at the Butler MFA graduate reading last May. "It's a piece about the complicated (still) feelings I have toward my dad due to his having Asperger's," Laura said.
Laura's essay will appear in the Winter 2017 issue due out in January.