by Kelly Harris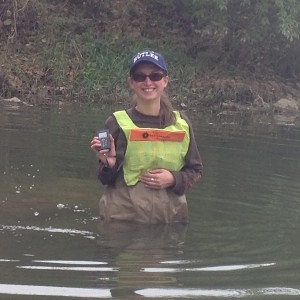 For the past two years I have been a Volunteer in Service to America (a.k.a., a VISTA) through Americorp. Creating in 1965, the VISTA program was the brainchild of John F. Kennedy to be the domestic counterpart of the Peace Corps.
The VISTA program's mission is to bring individuals and communities out of poverty. To accomplish this, VISTA has focused on building the organizational, administrative, and financial capacity of organizations that fight illiteracy, improve health services, foster economic development, and otherwise assist low-income communities (more on that here).
For my VISTA fellowship I was placed at the Center For Urban Ecology (CUE) at Butler University to work on the Reconnecting to Our Waterways (ROW) collective impact initiative. This might seem like an odd site for a VISTA since there is no obvious connection to poverty — actually, it is. My placement, the first for CUE, was novel for the Indiana's VISTA program and it was its first time to have a VISTA focus on environmental stewardship.
My charge as a VISTA has been to "contribute to improvement of economically disadvantaged communities and at-risk ecosystems in proximity to Indianapolis' six major waterways by…developing new community engagement initiatives, and communicating the importance of the waterways." I have accomplished this by helping build the organizational and administrative capacity of the ROW initiative.
Yet my primary role with ROW has been as metric manager, overseeing the development and implementation of a shared measurement system that tracks common outcomes indicators across the initiative. The results are then used to inform learning and continuous improvement. This role has provided me with many opportunities and experience over the last two years, from wading through Indianapolis' waterways to presenting at regional workshops.
Currently, I am working on developing ROW's Citizen Scientist Team to enable local residents to get involved and to assist with data collection on how ROW is impacting the local waterways and surrounding communities. This team of volunteers will have a variety of activities such as conducting stream assessments, walkability surveys, and observational surveys of how ROW's destination locations are being put to use. You can fill out this interest form if you are interested in being a ROW Citizen Scientist!
My position as a VISTA Fellow with the CUE is coming to a close at the beginning of August. It is bittersweet to see this formative chapter of my life close but it has led me to an exciting new chapter in my life. While the fellowship is ending my relationship with the CUE and ROW is simply evolving. I have been will continue working with ROW as its metric manager and waterway coordinator. And with the CUE as a pivotal ROW partner, I will maintain a strong connection with the center and its wonderful staff!
Kelly Harris, MSES/ MPA, is an Americorps SPEA-VISTA Fellow at the Center for Urban Ecology.