by McKenzie Beverage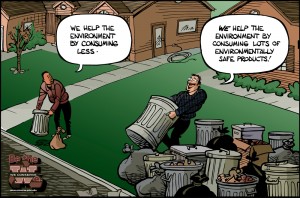 There is a lot of talk about recycling in Indianapolis right now. I have a love/hate relationship with recycling. While I love the fact that recycling keeps items out of a landfill (or incinerator in our case), I hate that it has the potential to help drive consumption of one-time-use products.
A friend of mine recently moved to Switzerland. When she first arrived she was provided with her city's official recycling guide.* Here is a translated excerpt:
Cans of Food: Try to buy seasonal fruits and vegetables instead.

Household appliances: Before throwing it away: is that necessary?

Cars: Are you sure that your old car is no longer serviceable? Or do you just want a new model?

Paper towels: Often overused–try returning to the good old-fashioned dishcloth.

Disposable diapers: Here is another case where avoiding the use of something is better than disposing of it.  The routine use of disposable diapers on most babies today is one of the major causes of the growing refuse problem. Cloth diapers, while intensive in terms of human energy, are still cost-effective and environmentally friendly.

Copying: Copy machines are paper eaters!  Do you really need a copy?
It is interesting to note that the guide had almost NO information on how to actually recycle. In a country that has one of the most exhaustive and comprehensive list of requirements for dog ownership, you would think that they would be more explicit about how to actually recycle.
The emphasis on using less seems like it does make an impact though. For example, Switzerland disposed of roughly 5.5 million tons of waste and recyclables in 2009. New York (a city of with a comparable population) disposed of 14 million tons. I realize this isn't a completely fair comparison. New York is a densely populated city, Switzerland is a small country, and well, it's Europe. But it's difficult not to think that a single municipality would have an easier time with waste management and education than an entire country.
Even Switzerland's recycling rate is higher. Their rates exceed 50 percent, while New York doesn't even reach 20 percent. Nationally, the U.S. can only claim 34 percent, and Indianapolis is barely maintaining a 10 percent rate. So what's the catch? Is "reduce and reuse" an ethos that is just embedded into Swiss culture? Feiock and Kalan would argue that higher recycling and lower trash rates in Switzerland are a result of the country's higher income and education levels, not program design and environmentalism. Semenza et al would not disagree, but they would add that income and education differences are not an impediment to change with the appropriate policies in place and effective leadership.
Regardless, both Switzerland and New York (and the U.S. for that matter) still produce waste at a rate that is 32 times higher than developing countries. We live in an era of (perceived) plenty. We are a consumptive culture with a trash problem. As much as I love recycling, talking about recycling, advocating for recycling, I wish we didn't have to recycle at all. I know that recycling is an industry and that industry creates jobs, and all of that contributes to our economy. I just wish it didn't result in things like this. And I wish that our consumerism wasn't based on a system that results in things like this.
Repeat it with me: Reduce first, then reuse, and finally recycle.
McKenzie Beverage is the sustainability coordinator for Butler University.