Day In the Life
Written by Madison Pines, Digital Nomad Diversity Awardee
Day 52 – Galapagos
My morning started at 5:45 to watch the sunrise over ocean. I sat on the patio listening to the sounds of the ocean and reading my book as the sky around me progressively became lighter and lighter.
Finally, around 6:30 our alarm went off in the room, rousing my roommates to start the day. We spent some time packing our bags and getting ready for our excursion.
After a quick breakfast of pancakes, we drove in the back of a pick-up truck to the pier where we boarded our boat for our day-long snorkeling adventure.
After about an hour of boating through the crystal-clear waters, we finally reached our first destination, an isle filled with natural bridges and pools. We spent some time climbing around the lava-made bridges and taking pictures. The natural pools were beautiful. The park rangers nicknamed it sea turtle highway because the sea turtles use it as a pass-through. And it was amazing. As you stood there fish after fish and sea turtle after sea turtle floated under you.
Back in the boat, we headed to our first snorkeling destination. The first dive was to see some fish and rock structures, but we were told not to get our hopes up for seeing much more. However, this ended up being my favorite dive of the day. With all of us geared up (and looking like ridiculous), we jumped (literally) off the boat and into the bright blue water. We swam around looking at the different fish and rock formations, but it wasn't until the way back that my bucket list officially had a checkmark. I've always wanted to swim with a Sea Lion and right before we were supposed to go back to the boat, a sea lion joined our excursion and swam with us.
Another 5 minutes and we were back in the boat heading to our second snorkeling location. Here, we were focused on seeing the animals. As we swam around, we saw sharks, sea horses, and lots and lots of sea turtles. Have you ever seen a sea turtle in person? They are HUGE! And it was just as scary to see a shark in the water as it is in your head. But it was part of the adventure and today was very much a bucket list day.
Following the hour boat ride back, we had the afternoon free, so in true Maddie fashion, I headed out to the beach. I spent my last afternoon on the Galapagos soaking up the sun and listening to the waves.
After a while, I ended up walking the town with Chris and Chris to find some sweatshirts to take back to the states with us, but apparently, no one in the Galapagos is ever cold because there were literally no sweatshirts.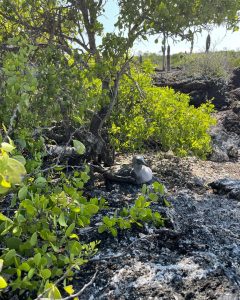 Once we were satisfied with our purchases, we headed back to the hostel to get ready for dinner. Some of the girls and I decided to dress up and take pictures on the beach before dinner.
Dinner was a garlic shrimp scampi with tiramisu for dessert and it was divine. After dinner, Christine and I needed to feel the ocean for the last time before we left, so my evening ended with a quick dip in the water before heading off to bed.
Spanish Word of the Day – Bucear: Snorkling🤿