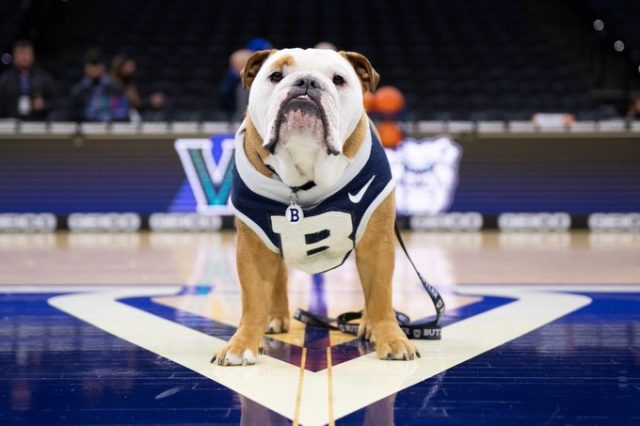 The Big Dawgs Tour is back! 
Butler Blue IV went on the first leg of the tour with the Butler Men's Basketball team, as they traveled to Georgetown, Villanova, and UConn. 
While the Bulldogs were working towards a dominant road trip against their Big East foes, Blue made his presence known amongst fans, mascots, and in different venues.
Blue's first stop on the road trip was at Georgetown University in Washington D.C. Unfortunately, Blue was not allowed at the game, so he stayed in his hotel room and watched Butler beat Georgetown, with the score being 72-58.
Blue did not just enjoy Butler's victory, but he also explored many historic sites in the nation's capital. 
On his Instagram, Blue posted photos of him posing in front of the Lincoln Memorial and the Jefferson Memorial. He even met Georgetown's live mascot, Jack the Bulldog.
Evan Krauss, Blue's handler, told me in an interview that Washington D.C. was remarkably beautiful.
"The amount of monuments, architecture and places to visit in Washington D.C. is endless," Krauss said. "We could spend a month in D.C. and show our campus something new. We also have a quite remarkable alumni community there as well, so that was great for that reason."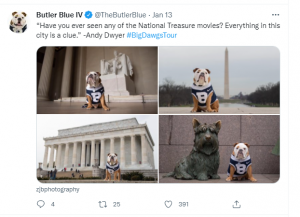 Philadelphia, Pennsylvania was the next stop on the Big Dawgs Tour for Blue and the men's basketball team. Krauss noted Blue was well received at the Wells Fargo Center.
"Villanova Cheer, Mascot and Student Section were falling all over themselves for Blue," Krauss said. "The staff there was just so kind and welcoming, that we had a great time there."
Evan Krauss described a funny Blue moment that happened after the game. After a long fun day, Blue took a postgame nap. When Blue woke up, it was dark, and there was an inch of snow on the ground. "He had a quick realization of where am I, what is happening, and it was funny to watch him process that information," Krauss said.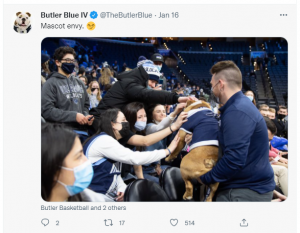 The University of Connecticut was the final destination on the Big Dawgs Tour. UConn's mascot, Jonathan the Husky, welcomed him with open paws.
As seen on Blue's Twitter and Instagram, Blue and Jonathan bonded with each other by playing ball and eating ice cream. Their chemistry was a sight to behold. "Once they got to the game, and they worked the entire game together, they were a hit, that is for sure," Krauss said.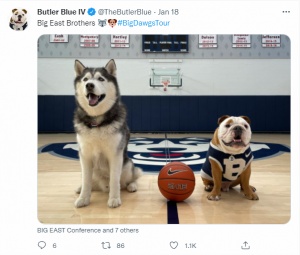 While Blue won the hearts of many, the Butler Men's Basketball team lost two straight games on the road against Villanova and UConn. However, Blue was there to cheer them up. Krauss mentioned that the team has adopted Blue as their team dog.
"When you're on these road trips, you spend a lot of time together, "Krauss said. "On the bus, the planes, meals, doing homework and watching other games. Having Blue's presence there was definitely welcomed. It was like a piece of home that the players got to take with them."
The Big Dawgs Tour started during Butler's 2013-2014 season, when Butler joined the Atlantic 10. Krauss was a Butler student at the time. "This was an effort by the marketing department and the live mascot program to introduce Butler into all of these new markets that we would be playing in," Krauss said. 
The following year, Butler joined the Big East, and they decided to conduct the tour once again. The Big Dawgs tour gained a lot of popularity on social media, which led to it being an annual tradition. 
Blue and Krauss have two more stops on the Big Dawgs Tour in the month of February with trips to DePaul on the 15th and Marquette on the 26th. The tour will conclude with a stop at the Big East Tournament, played at Madison Square Garden on March 9th.
As the Butler Men's Basketball team fights for a spot in the March Madness tournament, Blue and Krauss will continue to introduce Butler University to a new market.