by Kate Fulton While to most of us running is simply a way to get physical exercise, to the seniors on the Butler Women's Track...
In this week's episode of the Bark, Brian previews softball's upcoming weekend series, Jack talks all things Butler baseball, Maeve reports about BASO's Spring...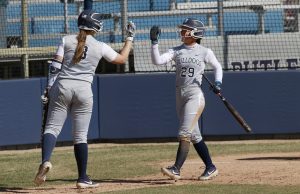 By: Brian Cooney This season, the Butler Softball team is off to a hot start, going 18-10 in their first 28 games. They face a...
https://youtu.be/VHHa3aEGEuc After two COVID-19 plagued years, BASO has brought back the all-night event that many students love: Spring Sports. Reporter Maeve Van Etten has more.