Hello Butler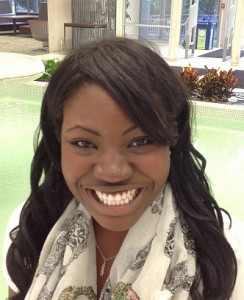 Students!
My name is Akeira Jennings, and I am your friendly neighborhood library student liaison!
I'm sure many of you are wondering exactly what a student liaison is, so I wanted to let you know a little bit about my position and what I do.
The role of a liaison is to facilitate communication between different groups or organizations. As a member of the Butler student population, I communicate with the library administration, staff, and faculty to express student interests and needs. I identify what student opinions are by offering surveys and through suggestion boxes. Because technology is constantly changing, as well as the ways in which we study, student opinions and perspectives are essential.
As part of my liaison responsibilities, I plan many of the fun events held in the libraries. Last year we hosted a College Mentors for Kids Halloween party and a Good Boy Blue Book signing at Irwin Library. We also hosted "stress less" events in both the fall and spring semesters. Although the year has just begun, we already have several fun and exciting events planned for this semester.
Part of my job is to help make the libraries welcoming to students. For example, I have created simple surveys to identify students' preferences for library furniture. (Students chose the café chairs now in the atrium of Irwin Library.) Last semester, I photographed students and faculty for new READ posters for the Lilly Science Library. The posters showcase students and faculty in the sciences, health science, and business fields, each holding a favorite book.
My job is essentially all about you. It is my responsibility to make sure that Butler University Libraries effectively meet your needs and hear your concerns. The Irwin Library and Lilly Science Library are yours, so help us shape them into places you'll be proud to call your own.
If you have any questions or concerns about Butler Libraries and our upcoming events, please feel free to e-mail me at acjennin@butler.edu or to stop by Room 206 in Irwin Library.
Akeira