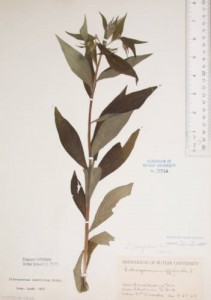 The Institute of Museum and Library Services (IMLS) is featuring Butler's Freisner Herbarium Digital Collection on its web site.  Staff of the Freisner Herbarium have partnered with Butler Libraries and IUPUI's Center for Digital Scholarship to photograph, digitize, and add searchable descriptors to nearly half of the herbarium's 46,000 specimens of plants native to Indiana.
The Freisner Herbarium Digital Collection makes this unique collection available to researchers the world over. According to the IMLS profile of the collection, "[c]ompared to the herbarium's fewer than a dozen in-person visits per year, traffic to the digital collection has exceeded 7,000 visits a month."
The digitization project has received grants from the Indiana State Library with funding from the IMLS Grants to States program. The Freisner Herbarium Digital Collection is also included in Indiana Memory, the Indiana digital library.
For more information about the Freisner Herbarium digital collection, visit the web site at www.butler.edu/herbarium.
By