By Ridley Morgan
Reporter, 5 Rights News
The world of broadcast journalism includes numerous fields and departments of business, incorporating every area of expertise in the industry. I was privileged to experience this first hand at the studios of WTHR Channel 13 in the community affairs department. For six hours I shadowed Angela Cain and her two producers, Jennifer Donovan and Young-Hee Yedinak, as they showed me the ropes.
Community affairs is WTHR's hidden gem, a portion of the newscast to which more people should pay attention. Cain's main purpose  is to bring different  topics to the community's attention, such as fundraisers and awareness events.  Cain  and her producers are actively participants in Coats for Kids, Shattering the Silence, and the Drumstick Dash.
I decided that it would be beneficial to interview all three of the department's dedicated workers and ask them some questions about what they do, why they do it, and what initially got them to where they are now in their careers. Jennifer Donovan has been working with WTHR for 11.5 years and has been in her current position for 6.5 years, originally starting off as a news producer.
"It's rewarding to me that I can help these organizations that don't get a lot of publicity and don't have a lot of marketing dollars get their message out there by being on our segments," she says. "I think it is very beneficial for our community."
Jennifer does most of the writing for what is called WTHR Cares, the portion of the newscast that the ladies in community affairs produce.
Young-Hee Yedinak proudly told me that she was inspired by her father to join the world of  broadcast journalism. Her passion was clear.
"Production is fun. You're in the thick of everything, you edit, you shoot…and all of those things are fun, but what makes my job here in community affairs rewarding in a way is the fact that what we're doing here touches people."
Yedinak does most of the producing and effects for the news segments.
I asked Cain what advice she would give to students at the IABJ workshop. She advises us to "have passion for what you do" and stresses that "writing is so important to being a good journalist." She finds it beneficial to know what is your passion and to always be curious about everything around you.
I found my experience in the community affairs department to be informative  and rewarding, and I was fortunate to be introduced to an area of journalism that I never knew existed.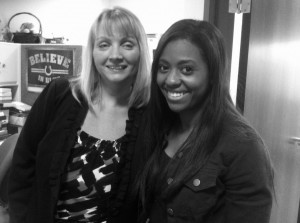 Filed Under: Communities • Editorial