Lifelong Friendship from Study Abroad
Written by: Peer Advocate Maddie Eden
Studying abroad was one of the most terrifying things I did during my college career.
When I say it was terrifying, it was because I had never traveled outside of the country before, much less traveled outside of the country without my family. The idea of being in a foreign country by myself was something that scared me more than I cared to admit. What if I got lost? What if something went wrong, and I didn't know anyone that could help me?
This is exactly the reasoning that led me to apply for Butler's GALA program, which stands
for Global Adventures in Liberal Arts. The GALA program was appealing to me because it involved one faculty member and a group of Butler students that traveled abroad together.
To me that was like having a support group of people my age going through the same experience that I was. It was people from my University that I could connect with when I was at a place where absolutely no one and nothing was familiar to me. It also meant having an adult who would be traveling with us, which made me feel much more comfortable.
That being said, I knew none of the people in my group as we waited in the Atlanta airport to board our flight to Rome. I sat there, watching people form small groups, and found myself being worried about if I would connect with someone in my group. I felt like I was back in kindergarten, worried about making friends on the first day of school.
Even though studying abroad was one of the most terrifying experiences I had during college, it was also the most rewarding. I met my lifelong best friend on that trip.
Her name is Maddie, and I found out later that she approached me that day at the airport
because we had the same name, and she thought that would be a good icebreaker. In the
following weeks and months, we discovered that we had much more than just a name in
common.
Maddie had traveled abroad through Butler programs twice before, so she was like a traveling veteran. She was level headed and a good travel companion because she had so much experience. We both liked to plan, liked to have downtime at the end of each day, and liked to spend our days with each other. Soon we became inseparable, so much so that the people in our group called us "The Maddies", because you never saw one without the other.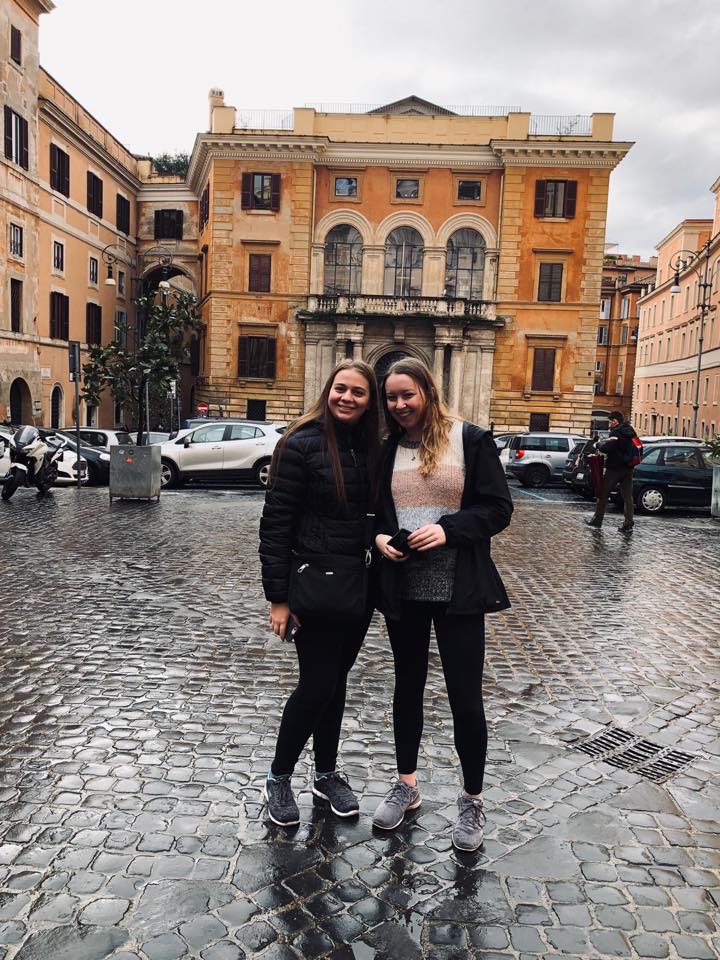 The first picture Maddie & I took together – Rome, Italy
The great part about our friendship isn't the fact that we became friends during the trip, or
even the fact that we were as close as we were during it. The greatest part about my friendship with Maddie is the fact that it continued after we returned from studying abroad. Maddie is one of my closest friends and my favorite person to travel with.
I have friends that I love so much, but I don't think I would like to travel with them. We're just too different, and I think we would run into issues. The best part about traveling with someone for three months, though, is that you learn their travel style and how they are in certain situations. Maddie and I travel well together, and that's why I invited her on vacation with my family, just four months after we returned from studying abroad. This was the first time I was able to see her since we had gotten back to the U.S., and it was like nothing had changed. She became part of my family for that week, and we had a great time together.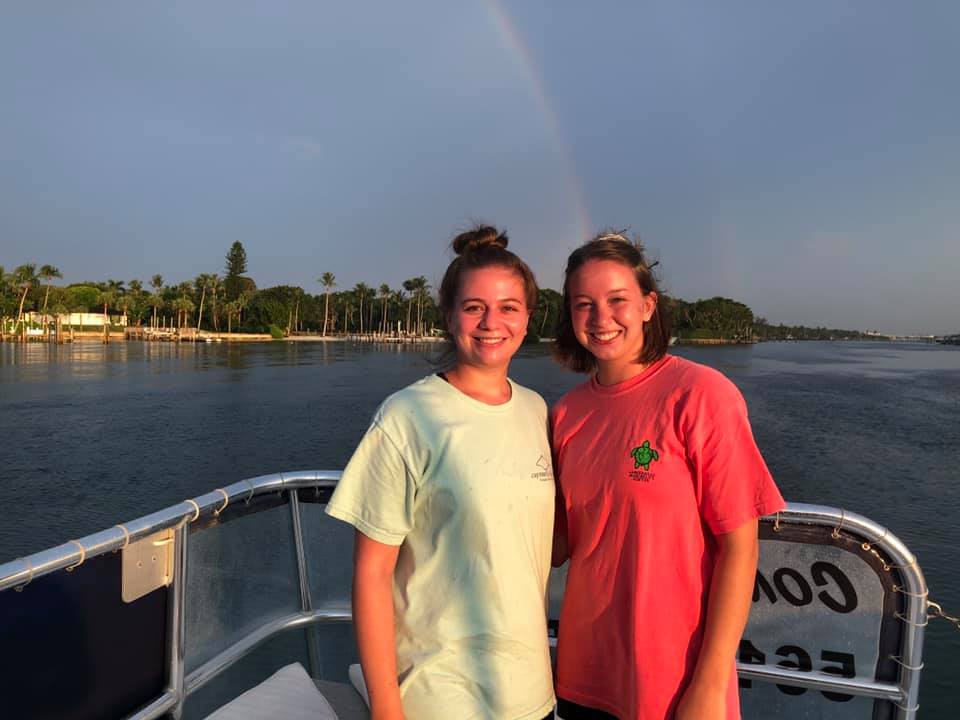 Me & Maddie on a manatee cruise – Jupiter, Florida
When we returned to campus in Fall 2019, it was harder to keep in touch and to see each other regularly. Maddie was a senior education major that was tackling student teaching, and I was a junior balancing schoolwork, an internship, and a part time job. Nevertheless, we stayed in touch and saw each other as often as we could.
For spring break that year, I asked Maddie if she would travel with me. We spent weeks
planning and preparing for our trip, and in March 2020 we flew to Orlando, Florida to spend three days at Universal Studios and Disney World. This was our first time traveling on our own, without friends or parents with us. Needless to say, we had a great time together and made the most of our time at the parks. We made it out just in time, because a few days after we left the parks shut down due to COVID-19.
Me & Maddie at Universal Studios & Disney World – Orlando, Florida
Maddie and I went a few months without seeing each other; Butler University also shut down because of COVID, so I returned home to Illinois, while she went home to Ohio. Like most other people, we Facetimed to stay in touch. In July, for my 21st birthday, Maddie drove down to visit and spend a few days with me. We had a great time, like we always do when we're together.
Me & Maddie celebrating my 21st birthday – Columbia, IL
When I decided to study abroad my sophomore year, I never would have thought that I would meet my best friend on that trip. Maddie is the biggest blessing that came from my experience, and in her I have found a lifelong friend and my favorite travel partner. She is living proof that studying abroad changes your life, even after you return home to the states.