Mamma Mia: Here We Go Abroad Again
By: Peer Advocate Jack Shirley
Caution: A laughable number of Mamma Mia puns lie ahead
When me and my friends decided we would be studying abroad in Fall of 2019, we knew we wanted to plan a trip to Santorini, Greece, even if the adventure would cost us some "Money, Money, Money".
After a summer of saving up and a fall semester of planning, we finally set a date in late October for our Big Fat Greek reunion. My other friends had managed to arrive together, but my schedule was a bit wonky so I was flying solo, literally. I landed in Athens, Greece, around 2:00 a.m. and had a bit of time to kill before my connecting flight to Santorini. There was only one logical thing to do. I hit play on Spotify and "Gimme! Gimme! Gimme! (A Man After Midnight)" started playing in my headphones.
By the time my plane landed in Santorini, it was nearly 5:00 a.m. I had a text from my dear friend Nicolet, letting me know there was only one bus and I needed to make the 6:00 a.m. one or I was screwed. "Mamma mia!" I thought to myself. Thankfully, the spirit of ABBA and Meryl Streep were on my side and I managed to hop on the bus just in the nick of time. As the bus rolled up to the part of the island where we were staying, I was greeted by my smiling friends and the most beautiful sunrise I had ever seen.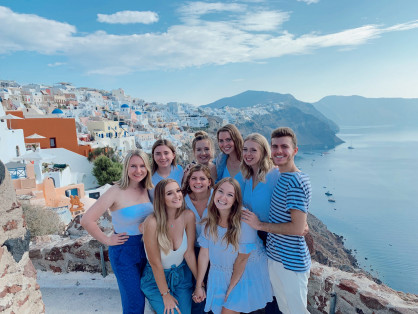 My friends led me through the winding white buildings to the windmill where our AirBnb was. (No, it was not the windmill from that one episode of The Bachelor.) We were staying in Oia, a city at the northern tip of Santorini. We all changed clothes and treated ourselves to Greek yogurt with some "Honey, Honey" and oats. However, I didn't have much time to rest because it was already time for our first adventure of the trip: a catamaran tour around the island. The catamaran brought us to several beaches around the island, giving us time to stop and snorkel in the water(loo), sunbathe, or enjoy the complimentary meal of pita with tzatziki, stuffed grape leaves, and kebabs.
The whole weekend was filled with unforgettable moments of me and my friends living out our Mamma Mia fantasy. We strutted around the island like Super Troupers, making sure to visit all the small businesses that keep the island alive. Many of us walked away with empty wallets, but bags full of handmade rings, jewelry, pins, and prints. It didn't take us long to establish a nightly routine of watching the sunset from our balcony while twirling around to "Dancing Queen".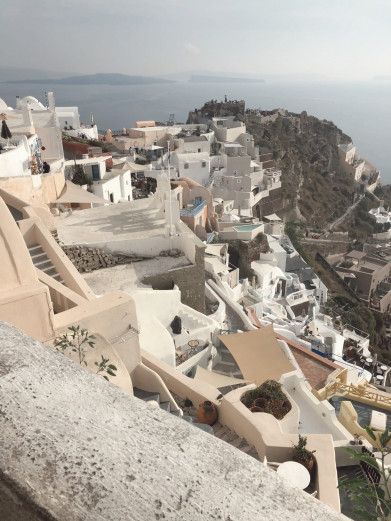 We all made a commitment to eat traditional meals when we visited new countries abroad, and Santorini was no exception. My favorite restaurant was a spot called Meraki where we dined on Greek classics like calamari and gyros. What I liked most about the restaurant was actually a quote on the menu that read, "Meraki is when you do something not because you have to, but because you want to. Because you love it!"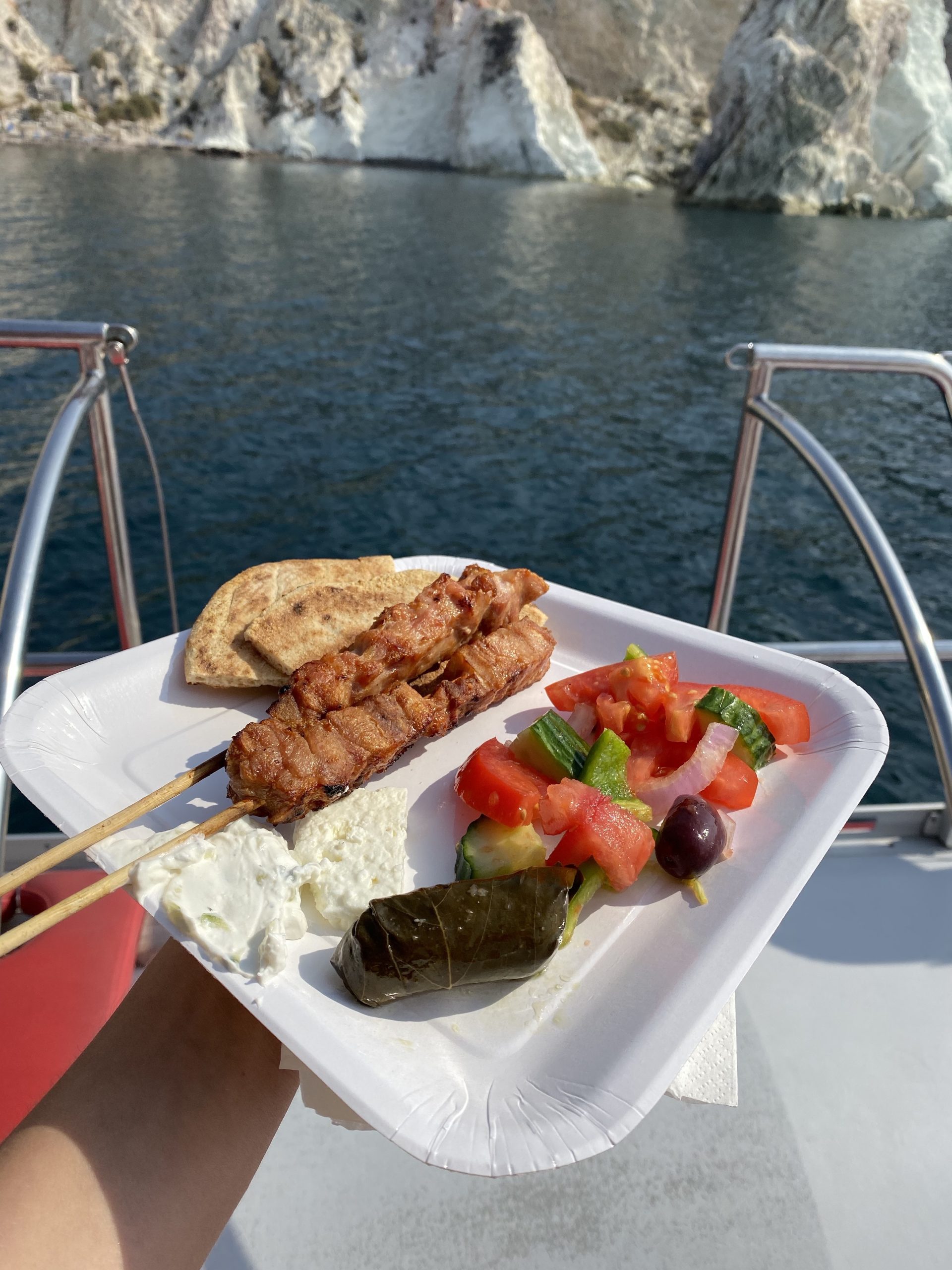 One of my other favorite spots on the island was a bookstore called Atlantis books. Sketched into the stone wall was a Greek phrase that had been translated into English that said, "It's okay, you can start over." Especially in the present day, this is such a reassuring message to hear when it feels like things are a little too dreary or the weight of the semester is feeling a little too overwhelming. The chance to start over means there is hope! Now, that's a message we could all benefit from hearing right now.