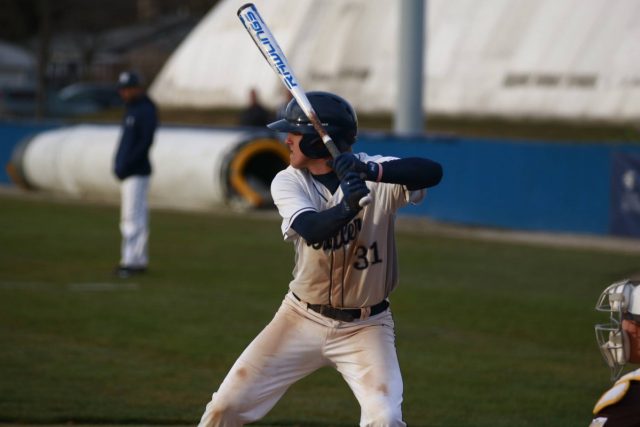 Left-handed freshman Andy Bennett stands at the plate against Valparaiso on March 23. Photo by Jimmy Lafakis.
The Butler University baseball team will take on Indiana University in a three-game series beginning on March 29.
The Bulldogs faced the Hoosiers just once last year. The game ended in favor of the Bulldogs, 7-5.
Josh Walker took home the victory for the Bulldogs last year. He pitched nearly 2.1 innings of perfect baseball, including two strikeouts.
Garrett Christman went three for four at the plate and scored three runs. Zach Jarosz also hit three for four and earned himself an RBI in the process. Michael Diviesti drove in three runs for the Bulldogs.
The Bulldogs travelled to Bloomington in that match-up as well. Last year's game took place in mid-April, when temperatures were rising. The cold air of late March will no doubt have an effect on the play of both teams.
The Bulldogs had four games canceled in the span on one week due to weather. Rain clouds the forecast for this weekends series as well.
The offensive strength of the Hoosiers cannot be ignored. Luke Mitchell serves as the lead off man and has hit seven home runs and 18 RBI. The Hoosiers' highest batting average is held by Matt Gorski at .338.
The Bulldogs dominate in the batting average category with Jacob Margoff, Tyler Houston and Christman above the .338 mark. Margoff leads the team in batting average at .364.
The Hoosiers are  ranked 11th in the nation, while the Bulldogs are unranked.
The games are set to take place on March 29 and 30 at 6:05 p.m. and March 31 at 2:05 p.m.