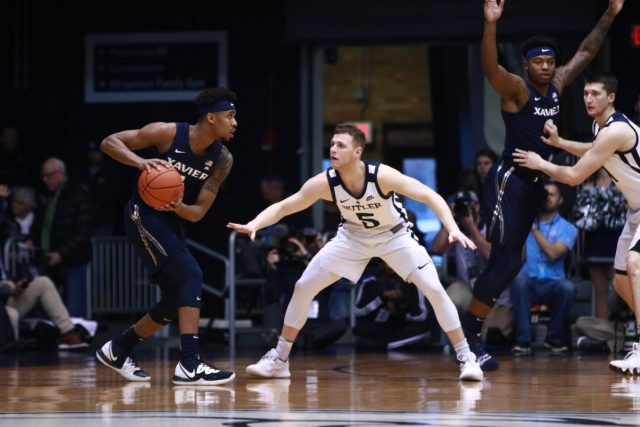 By Jarod Lipson
The Butler men's basketball team took down Xavier 71-66 in Hinkle Fieldhouse on March 5th.
The Senior Night victory over a bitter rival was emotional, albeit unimportant to the virtually non-existent tournament hopes Butler has this season. The Musketeers got on the board first and held the lead for nearly the first 10 minutes of the game.
Paul Jorgensen's three-pointer gave Butler its first lead at 16-14. The three was Jorgensen's second of the game and he finished the first half with 11 points.
Four lead changes ensued in the following eight minutes. No team went up by more than three points until the final minute of the quarter.
Three points for Kamar Baldwin and one from Christian David in the final minute of the half took Butler into the break with a 35-30 lead.
The back-and-forth nature to the end of the first half continued into the beginning of the second. Xavier tied the game at 37 less than three minutes into the half.
Baldwin came alive after the scoreboard was tied, scoring seven of the next nine Butler points and leading the Bulldogs to a four-point lead.
It didn't take long for Xavier to take that lead right back, and once again the lead swung back and forth. The next two minutes saw four more lead changes.
Finally, a Sean McDermott field goal put Butler up for good. The continued scoring of Baldwin and Jorgensen closed the game out.
Baldwin led the team in scoring with 24 and Jorgensen wasn't far behind with 19 in his final game at Hinkle.
Butler is now 16-14 overall and 7-10 in the Big East. The Bulldogs travel to Providence for their final regular season game of the year.