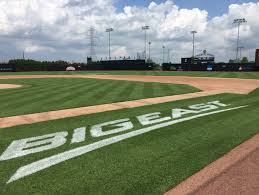 Photo from foulpolesports.com
The Butler Bulldogs baseball team has been on the rise in recent years under new head coach Dave Schrage. Last season the Bulldogs finished the year with a 33-18 overall record and a 9-8 Big East record. That landed them at third in the Big East standings and with a spot in the conference tournament. Butler won their first game in the tournament, but lost the last two eliminating them from the championship game. The Bulldogs are hungry to get back out there, and they begin Big East play on April, 5th at home vs. St. John's.
Big East baseball is going to be as competitive as ever this season,and if Butler wants the success they had last year they will need to perform at a high level.
The Bulldogs did not match up well last year with the two top teams in the league, St. John's and Seton Hall, going 1-5 against them in 2018. Those were also the two teams that defeated Butler in the Big East tournament last year. Both of them have multiple returning players and should be strong in Big East play. Seton Hall is off to a questionable start this year with a 6-12 record, but I still think they are a team Butler should be concerned about.
Also, I think that there will be a few sleeper teams that the Bulldogs should watch out for this year. The first sleeper team is Creighton, Will Robertson is an upcoming outfielder in his Junior year. He had a big summer in the Cape Cod league,hitting .300, and I would look for him to carry the Jays this season.
I also think that Xavier will be an improved squad this year. They have a versatile recruit in Kody Darcy. He is beyond the typical Xavier recruiting footprint. Darcy was drafted in the 39th round of last years Major League draft, and will add depth to this Musketeer's team, look for them to be a contender this season.
The Bulldogs definitely have a tough road ahead of them this year, but remember how talented this Butler team is. They were 25-12 in non-conference games last year, and if they can have similar success it will no doubt put them in the conversation to make the tournament. Because only four teams make the tournament Big East record is crucial, the Bulldogs need to rely on their stars, and get more experience for the younger guys. Two big names to watch out for Butler would be Right-handed pitcher Ryan Pepoit and Outfielder Harrison Freed. I wouldn't be shocked if those guy's names were called in June for the 2019 Major League Draft.
April, 5th @4 pm – Home vs. St. John's
April, 6th @2 pm- Home vs. St. John's
April, 7th @1 pm- Home vs. St. John's