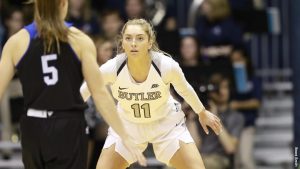 The Butler Women's Basketball team was defeated Thursday night in the 3rd round of the N-I-T tournament to the University of Cincinnati 72-65.
The Bearcats used a fourth quarter surge, outscoring Butler 24 to 9 and ending the Bulldogs hopes of making it to the semi-finals of the tournament.
The Bulldogs were lead by their three seniors Whitney Jennings, Tori Schickel and Michelle Weaver. All three seniors did not sit as they all played the entire 40 minutes of the game. Jennings led the team in scoring with 25 points and Schickel posted another double double as she had 21 points and 11 rebounds. Michelle Weaver had a tough night shooting but contributed with 6 rebounds and 5 assists.
Kristan Spolyer had a solid game tallying 13 points, 8 rebounds and 5 assists while the other starter, Shae Brey had 4 points, 4 rebounds and 2 blocks. The Bulldog's bench did not produce a point for the team and the Bearcats outscored Butler 18 to 2 in fast break points.
After one of the best season finishes for the Bulldogs in recent history, they do end up losing three of their starters. Whitney Jennings who transferred from Iowa ends her career as one of the best three point shooters to play for Butler. Tori Schickel's career ends as she is the all time leading rebounder and one of the greatest players to ever play for the Bulldogs, according to head coach Kurt Godlevske. The third senior, Michelle Weaver leaves the program as a great defender and a glue player for the team.
The Bulldogs were on the N-C-A-A Tournament bubble late in the season but the loss to Georgetown at home and Creighton in the Big East tournament saw their hopes of competing in the big dance fade away.
But ultimately, this was a successful season for the Bulldogs and they can use this season to build on and try to make the N-C-A-A Tournament next year. This is also a senior class that will go down as one of the best Butler has ever had.