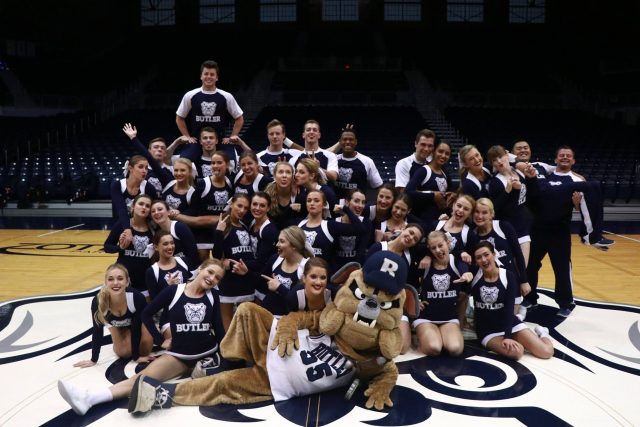 by Peyton Thompson and Mohsin Waraich
Whether it is a sold out basketball game against Xavier, a cold and rainy fall football game or a Friday night volleyball game, Butler University cheerleaders are supporting their school regardless of who is playing. We asked two Junior Butler cheerleaders questions about everything it takes to be on the team. Danielle Rogers and Deonte Hamblen share their thoughts.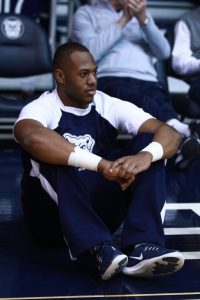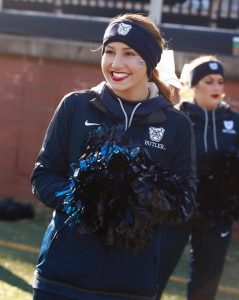 What does it take to be a Butler Cheerleader?
Danielle: So, like any other University with a cheerleading program there are certain requirements one must meet in order to be a part of the Butler University Cheerleading team. Although the requirements have changed since my freshman year. Coming in my freshman year the coach was looking for a minimum requirement of a standing back-hand-spring. A standing tuck was encouraged, but not necessary. Stunting technique is also very important as you are putting people in the air, and that can be dangerous if you are putting someone in a position who is not prepared or does not have any experience. Keep this in mind, this was my freshman and sophomore year requirements, today as a junior and upcoming senior a lot of change is being made to the Butler University Cheerleading program.
Deonte: It takes a lot of dedication. We have pretty intense practices, that are not only just extremely frequent but they take a lot of time out of your day. Our practices are at least two hours long, sometimes three depending on if we have a routine to do. You got to be willing to put into the work. One hundred percent not only in practice but after practices as well. Like maybe going to open gyms or setting time to do work with your stunt practice outside of practice. So it takes a lot of endurance and it takes a lot of dedication.
Tell us about your cheer journey.
Danielle:  I was actually a competitive gymnast for about 14 years of my life. I started gymnastics at a very young age and went on to become a level 8 gymnast. This is where I got a lot of my tumbling ability. Some girls will start at a young age for competitive cheerleading, however I never did that. It was not until middle school that I tried out for my elementary cheer team. Here I met my coach Lanell Christensen, and she took a major part and creating the cheerleader I am today. She helped me develop a lot in my stunting abilities and improved a lot of my technique. Next was high school where I cheered for 2 years at Columbus East High School. I was very busy also playing soccer, but now going into college I really wanted to do something on campus to keep my active and involved. So, I thought maybe I could cheer again. One thing led to another and I found myself at Butler Cheer tryouts. I had not tumbled or stunted in a while, so I called my old coach Lanell and she helped me with my tumbling and stunting skills and learning all the material for tryouts. I am now entering my 4th year as a Butler Cheerleader and I could not be more excited.
Deonte: I've been a cheerleader for one year, so this is my first season and I'm onto my second season as a senior. I basically just got asked to do it by a friend of a friend who was a former cheerleader and they said that I'd be good at it because I lift a lot.
What has been your favorite memory from the 2018-2019 season?
Danielle: There are so many, but if I had to choose it would be the halftime performance we did with the Dance Team.
What is the best game you've ever cheered at?
Danielle: That would probably be my freshman year when we played Villanova. They were defending national champs at the time and we beat them on our own home court. The excitement and energy in Hinkle that night was unreal, and you could really feel the "Hinkle magic" that everyone talks about. We also stormed the court which was pretty memorable as well. That was probably the most fun I have had cheering at a game and one memory I will cherish forever.  
Deonte: It was probably one of our first games of the basketball season. I think it was a non-conference game against Ole Miss. We played really well, the crowd was really into it and it was good to get a win against a somewhat decent SEC team. I also cheered extremely well.
Why should cheerleaders be considered athletes?
Danielle: Cheerleaders should be considered athletes because cheerleading is in fact a sport. People cannot just be magically thrown into the air, no, it takes practice, practice, and more practice. It involves repetition and athleticism. It involves physical activity and skill. It involves time and dedication. I mean the list goes on and on. But cheerleaders do the same, if not more, than a lot of other athletes do. We don't just cheer one game a week and call it day. We spend three hours practicing a week, another 2 hours going to the gym, another 2 hours going to stunt on our own, another 8 hours for games (sometimes even more if we have double headers or more than one game a week), and 4 plus hours serving our community or volunteering a week. There was one week where I dedicated 24 hours of my time to cheer. Don't get me wrong, I love doing what I do, but sometimes the level of respect and appreciation we get is just not there.cheerleading is not just a sport. It's more than a sport. Our responsibilities go outside just our team. We are ambassadors for the university, the faces of butler, roles models to the youth, and one of the biggest supporters of the university. I just think that people don't see all of that sometimes. Cheerleading may be under athletics now and we may be viewed as athletes here, but we still have a long way to go with receiving all the benefits any other "athlete" or athletic team receives.
Deonte: Because we put in as much work if not more work than other athletes in Butler Athletics. We work extremely hard for other athletic teams and I feel like we need to be recognized under athletics because we're not a club sport. We have intense tryouts, intense clinics and intense cuts. For that reason I feel like we deserve to be under athletics, which we are.
What's the most embarrassing moment you've had as a cheerleader?
Deonte: Well, probably my least favorite part, but I need to do better at this; in the beginning of games we have a nice little tuck line, like a backflip line. Sometimes I get nervous and I over rotate on my tucks and I land on my butt. I did that, I feel like a few times, during a few Big East games. So that's probably my most embarrassing moment, falling on my butt.