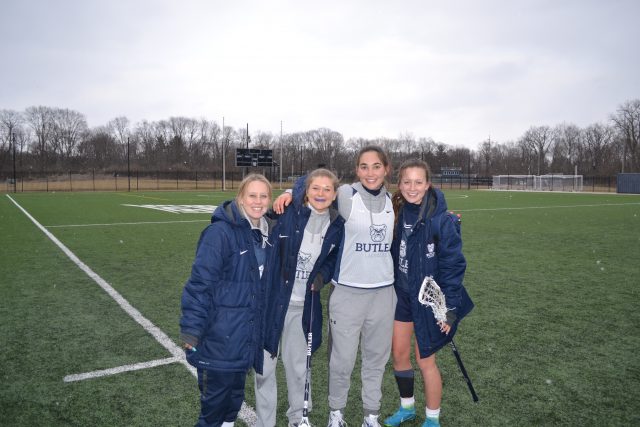 By Kayla Bartl
Butler women's lacrosse played Villanova on April 20. It was a very special day because the team was celebrating senior day. Butler lacrosse is graduating four seniors this year: Carly Hewitt, Haley Hallenbeck, Jordan Fischbach and Adi Smith. The team planned things for each day leading up to Saturday. For the 15th, the theme was Memory Monday, where each of the players wrote a quick sentence or two about each of the seniors that they put inside their lockers before practice. On Tuesday the 16th, the theme was a funny tagline that each of the seniors have said before, in 150 characters or less.
On Wednesday the 17th, the theme was to dress up as one of the seniors. Each individual class was assigned one of the seniors and was to dress like them. On Thursday the 18th, the theme was to make a basket for each of the seniors with their favorite things and favorite food. Friday the 19th, the last day before the game, was to come up with different pranks for each of the seniors. Finally, on Saturday the 20th, each of the players wrote letters to all four of the seniors on what kinds of impacts they have left with them.
Each of the seniors have left such an impact on this team and have helped to build this program to what it is today. Going from the first year of winning one game to this season of winning three games and winning a game on their home turf, the Butler women's lacrosse team is slowly improving each day it steps onto the field.