As the sun rises on the start of spring sports, one form of sport gets ready to host its biggest competition of the year, as the season is just beginning. Today sees the 60th running of the Daytona 500, and here are 5 reasons why you should tune in!
What Cable Package?
Whether you are living on Butler's campus, in a greek house, or senior house, chances are that your cable package is a bit lacking. Whether it is the struggle of missing Butler basketball games due to them airing on CBS Sports Network, or Fox Sports 2, it can become a bit frustrating. However, as has been tradition since 1979, the Daytona 500 will be shown on the broadcast FOX channel, ruling out the need for cable, or really anything more than an HD receiver and a decent television.
Fresh Faces
With many of yesterday's stars beginning to find retirement, including now-broadcaster Jeff Gordon, a new wave of youth has taken hold of NASCAR. With this new wave comes an inherent ease for students our age to take interest in drivers whom may not be much older than we are. Consider Darrell Wallace Jr., who not only is making the headlines as the next successful African American driver, but spends his free time practicing his drumming on Snapchat for all fans to see.
Yesterday's Heart-stopper
The Daytona 500 is proceeded by several lower tier races in the days leading up to the main event. The most recent, yesterday's Powershares QQQ 300 saw the closest finish in the series' history, as Tyler Reddick edged out teammate Elliot Sadler with a gap of officially 0.000 seconds at the line. It was so close that NASCAR's timing equipment could not record the gap as it was too small. Pictures revealed that the winning margin was no bigger than a few inches at most. With a mix of exciting 3-wide racing, accidents, and even some fuel strategy, yesterday's race could mean good omens for today.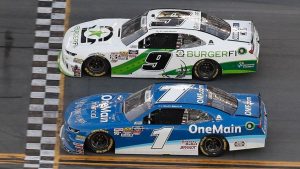 A Final Race
The penultimate stop in her racing career, Danica Patrick returns to NASCAR today for her final race in the series before ending her career later in the year at the Indianapolis 500. Certainly a polarizing figure in the sport, Patrick is the most accomplished female driver in NASCAR, with Daytona being one of her best racetracks statistically. The media will be buzzing if she has an excellent finish, as Patrick races towards the finish line of her career.
Evened Odds
Daytona is one of two tracks on the NASCAR schedule where a restrictor plate is used in the engine. This means that the speeds of the cars are capped to around 200mph, but also means that almost everyone in the field has a chance to win the race, regardless of team or manufacture. It's the great equalizer, and that means the underdogs have a good chance to upset the veterans.
The 60th Annual Daytona 500 takes the green flag at 2:30pm EST on FOX