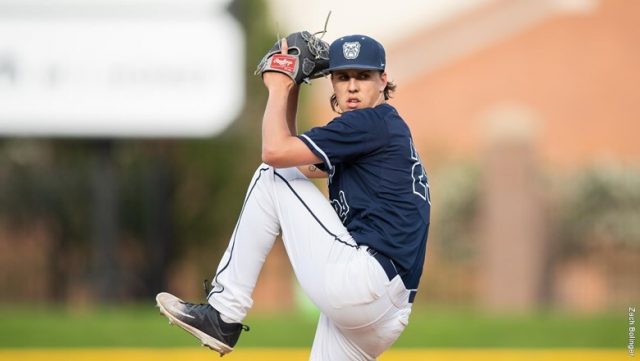 Butler baseball started their season this weekend with victories over George Mason and North Carolina A&T twice. This was part of a series of four games across three days, but Sunday's match-up with George Mason was cancelled because of the threat of adverse weather.
Head coach Dave Schrage enters his fourth season with Butler, looking to make it three 30-win seasons in his short tenure.
With this hot start to the season, here are three big takeaways from this weekend to look out for as the season continues.
Jack Myers Is The Starting Pitching Depth This Team Needs

With last year's ace Ryan Pepiot getting drafted by the Los Angeles Dodgers, Butler's starting rotation lacked depth going into this season on paper.
However, Jack Myers stepped up in game three of the opening weekend. He threw seven shutout innings, striking out 14 batters and walking none en route to a 2-1 Butler win.
The main thing Butler lost in Pepiot was a strikeout machine. Last year, Pepiot tallied 124 strikeouts in 78 innings.
Conor Schultz, the ace of the staff this year, picks up his fair share of strikeouts, averaging just over a k per inning last year. However, having two starters that can set opposing batters down like that must be very comforting for coach Schrage.
The Jury Is Still Out On The Bullpen
The Bulldogs did come away from the weekend undefeated, but not completely unscathed. In the three wins, the opposing teams managed to score over half of their runs after Butler's starting pitcher left the game.
Saturday's 15-8 win over George Mason was the toughest day for the 'pen, as John Maccauley and Nick Eaton combined to give up four runs in just over five innings.
In Friday and Saturday's wins over North Carolina A&T, two of the three total runs A&T scored came in the eighth inning or later.
Giving up a a run here-and-there is not the end of the world, but Butler will need to figure out the order of the back end of their bullpen before the weather warms up and the ball starts to carry off the bat a bit more.
Nick Ortega Could Potentially Be This Year's Breakout Star
Three games into the season, Butler's team leader in hits is Nick Ortega.
According to Butler Athletics' 2020 Baseball Preview, Ortega was not projected to be a starter in the outfield, but more as an athletic, defensive replacement who could play any outfield position. However, he started all three games this weekend, and made the most of his opportunity. The highlight was him going 3-5 and scoring two runs in game one against George Mason on Saturday.
If he can manage some consistency at the plate and maintain his stellar defense, Ortega may be the secret weapon Butler's offense needed this season.