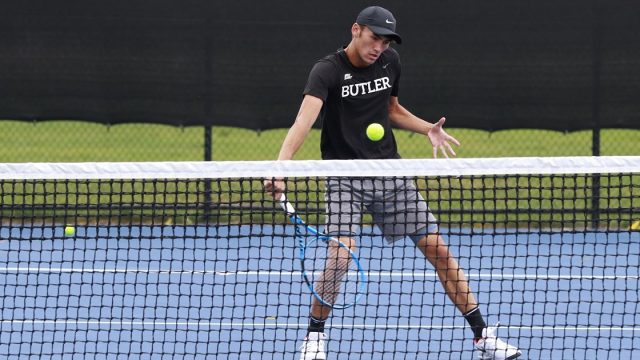 Thomas Brennan's backhand wins a point for the Bulldogs in a match earlier this year. Photo courtesy of butlersports.com . 
The Butler men's tennis team opened BIG EAST play last weekend with a 4-3 win over Georgetown at the Butler Bubble on Saturday.
The Bulldogs set the tone early winning two of three doubles matches. On the number one court, Thomas Brennan and Olof Wiklund won 6-3. The following two doubles matches were closely contested as both went to deciding sets. After Drew Michael and Ryan Roegner fell 7-5 in the second match, Alvaro Huete and Zach Trimpe had to win their match on the number three court to earn the point for Butler, which they would do, winning 7-5.
With singles play starting up shortly after, Brennan claimed the victory over Connor Lee in straight sets on the number one court. However, Georgetown was able to win three of the next four singles matches to set up a deciding match between Roegner and Georgetown's Andrew Rozanov. After splitting the first two sets, Roegner was down 3-5 in the third set before mounting a comeback to win 7-6, ultimately winning the match for Butler.
Later that day, the Bulldogs travelled to West Lafayette to take on Purdue in their first road match since February 2nd.
Butler struggled early on as Brennan/Wiklund and Huete/Trimpe lost on the number one and three courts, respectively, as the match on the number two court went unfinished. The Bulldogs' struggles would continue in singles play as Drew Michael was the only player to earn a victory, winning 7-5, 7-6(5) over Purdue's Sebastian Welch.
The next day, Butler traveled to Wright State and bounced back with a 5-2 win thanks in large part to the singles matches. After failing to take the doubles point, the Bulldogs responded by winning five of the six singles matches, in which all of their wins came in straight sets.
Butler will not have to travel far for their next match as they take on IUPUI on February 22nd at 2:30 p.m.
Player of the Weekend: Drew Michael
Michael finished 3-0 in singles play over the weekend. Defeating Georgetown's Mark Militzer 6-4, 1-6, 6-4 and earning a victory over Purdue's Sebastian Welch 7-5, 7-6(5). The next day, Michael continued his winning streak with a 6-1, 6-0 win over Wright State's Theo Bourghelle.
Moment of the Weekend: Roegner's Deciding Match
The Hoyas led the Bulldogs 3-2 in singles play with one match remaining to decide the result. Roegner won the first set 6-3, before falling 2-6 in the next. In the deciding third set, Roegner was down 3-5 before coming back to win 7-6.