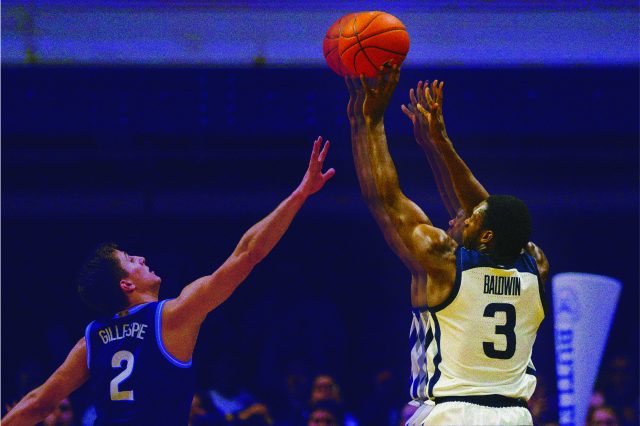 It didn't take long for fans at Hinkle Fieldhouse to realize Kamar Baldwin was going to be special. In just his second game as a Butler Bulldog, the freshman point guard drained a mid-range buzzer beater to take down Northwestern.
From that moment on, it was full steam ahead, as Baldwin continued to write his name in Butler's storied history books. With a career 15 PPG average and what should have been three NCAA Tournament appearances, Baldwin's stake as an all-time great Bulldog is strong. Still, what separates him from those that have come before him was his ability to hit "the shot". College basketball games boil down to one thing: star players making star plays down the stretch. Following the 2016 game-winner against Northwestern, Kamar Baldwin epitomized that role for Butler.
Butler 360 Sports was lucky enough to sit down with Baldwin to breakdown the most clutch shots throughout his career, complete with thoughts and anecdotes from the man himself.
Butler vs. Northwestern, Nov. 11 2016
Still a newcomer to Butler, Baldwin was called upon to win a major non-conference against Northwestern. It was his just his fifth shot from beyond the arc in his college career. Baldwin would continue to ascend during the course of his freshman year, eventually eclipsing Tyler Lewis as the team's starting point guard. The team made the Sweet Sixteen later that year, eventually losing to North Carolina, who would later be crowned the national champion.
Kamar Baldwin on the game winning shot: Once I got the ball, I sort of forgot the play. But then Andrew Chrabascz helped me remember it. Sean [McDermott] came and leaked out. They switched it, so I just attacked the big man and got a shot up on the rim.
Butler vs. Ohio State, Nov. 26 2017
Fast-forward to Baldwin's sophomore year, which started with a coaching transition. Out went Chris Holtmann to Ohio State, and in came current head coach, LaVall Jordan. In their final game of the PK80 Tournament in Portland, Baldwin and Kelan Martin led a late charge to come back from over fifteen points in the final two minutes to force overtime. Baldwin's three pointer tied the game up at 59-59, after shooting just 1-8 from deep prior to that attempt. The Bulldogs went on to win the game in overtime, getting a big victory over their former coach.
Kamar Baldwin on the shot to force overtime: I was just trying to find my rhythm with the crossovers. The two defenders got mixed up and it left me open for a second and I was able to capitalize on it.
Butler vs. Stanford, Nov. 26, 2019
Early on in his senior campaign, Baldwin had a chance to send the Bulldogs out of the Hall of Fame Classic with a perfect 3-0 record. After willing the team to victory against Stanford, Butler wouldn't lose in non-conference until a showdown with the ranked Baylor Bears. Butler climbed as high as number 5 in the country in 2020, the highest regular-season ranking in school history.
Kamar Baldwin on go-ahead shot: I had been going to the basket a majority of the second half, so I sold the drive again, and then stepped back and it went in.
Butler vs. Villanova, Feb. 5 2020
Contests against Villanova have come with an abundance of drama the last few years, but it's hard to live up to 2020's edition. After a rocky section of their Big East schedule called into question the team's ability to compete at the top of the conference, Baldwin silenced the skeptics. Against the tenth ranked Wildcats, Baldwin would go for 17 points, including the game-winning three as time expired.
Kamar Baldwin on the step-back jumper: This was very similar to the Stanford one. I got the switch onto the smaller defender. I wanted to go to the rim, but he cut me off. I ended up taking the step-back and it went in.
Butler vs. Xavier, March 7 2020
In what would be his final shot and game as a Butler Bulldog, Baldwin went out the only way he knows how: a game winning three-pointer. The team lost a double-digit lead to the Musketeers late in the second half, and found themselves trailing by two with under ten seconds left. The rest is history. The win not only bolstered Butler's already impressive NCAA Tournament resume, but potentially dashed the March Madness dreams of Xavier. Baldwin's final shot also notched him a new career high in points, ending with 36 against the Musketeers.
Kamar Baldwin on his final shot: Once I got the ball inbounded to me, I was just trying to get the best shot. Bryce Nze set a great screen that got me an open look and it went in.
While his career was cut short, his place in Butler Basketball lore is secure among the greats. Hinkle Fieldhouse might never know a more clutch player than Kamar Baldwin.
If you want Butler sports content, Butler 360 Sports is the go-to place! Keep checking back for the latest news, updates, and articles covering everything from basketball to lacrosse.