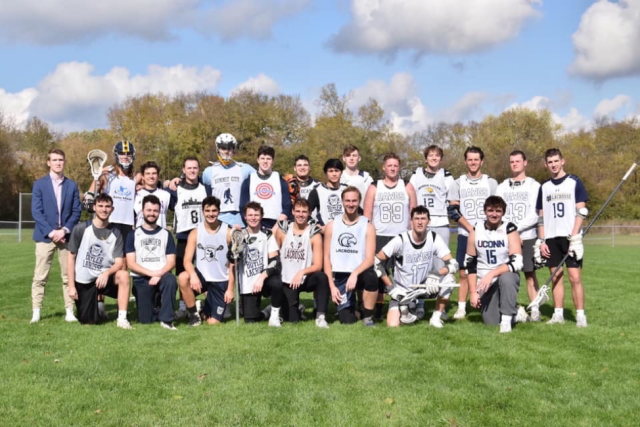 By Andrew Wagner
Recently the Butler Men's Club Lacrosse team's season was cancelled due to Covid-19.  This would have been their first year competing in the NCLL after rebuilding the past four years.
In 2015, the Butler Men's Club Lacrosse team was facing major financial troubles.  A former coach spent more money on apparel and gear than the team had in the budget.  This caused the team to go into debt charging dues at $500 in 2017.  The dues would get them four games and a uniform.
Since then the club has only grown and improved.  In 2018 Aidan Dowdy and Nick Adams were elected Co-Presidents.  As president Dowdy had the goal to build a team setting, rebuild the club's reputation, and be competitive in games.  Dowdy had been reelected president two more seasons and ends with a final record of 1-7.
What the record doesn't tell is the massive improvements the club has made in that time.  His first-year total team size was about 18 people.  This made it very difficult to get a team to play games and practice.  It wasn't unusual for the club to have to cancel games or play with opposing players on their team.
In 2019, the team grew to more than 40 players.  Practices now consistently had eight or more people attending compared to four or five in 2017.  They grew to playing 12 games a year and were even invited to the Cardinal Classic in the fall and the Midwestern Invitational in the spring.
Dowdy had high hopes for the first year in the National Collegiate Lacrosse League, but he will never get to play in the league he lead his club to join.  Dowdy's passion for the club came from his love of the team setting.  Before coming to Butler Dowdy played in Florida for seven years.  His high school got its first lacrosse program when he was in 8th grade. This allowed Dowdy to get a lot of experience with building organizations and made him a great president for the Men's Club team.
Dowdy said his favorite part about the club was how it began to feel more like a team as the years went by.  He enjoyed how lifelong players and new players were able to play and have a common love for the game.  He also enjoyed the club's feeling being more like, "a slightly more laid-back summer league."
Finally, Dowdy wanted to leave with, "The team has grown a significant amount these past two years and I couldn't be any prouder of how far we've come. Special thanks to our five seniors (Myself, Andrew Wagner, Carl Nelson, Cole Schulte, and Steve Klimcak) who saw the club through all the way from the beginning to where it is now."