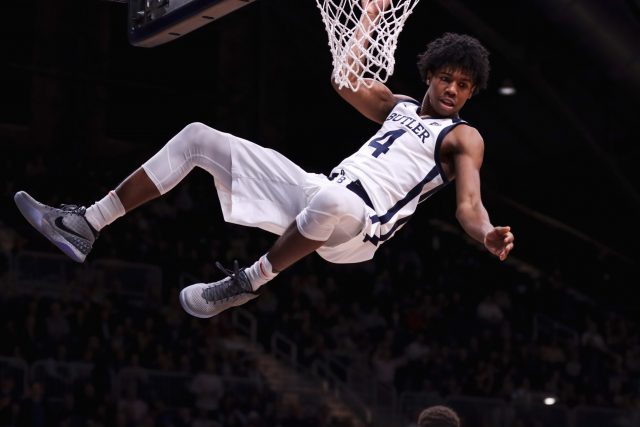 Khalif Battle hangs on the rim after a dunk. The freshman announced his decision to transfer on March 21. Photo courtesy of The Butler Collegian's Chandler Hart.
The Butler Bulldogs men's basketball team had a good season. They exceeded expectations by going 10-8 in Big East play and likely would have earned a 5-seed in the NCAA Tournament if it not for the cancellations due to concerns over the coronavirus.
Gone from the team are staples in Butler basketball over the last four seasons. Namely, Kamar Baldwin, a top-5 scorer in program history leaves behind a great legacy. Sean McDermott went from being redshirted his freshman season to becoming a solid secondary scorer. Henry Baddley and Derrik Smits provided sparks off the bench.
Despite how abruptly the season ended, college basketball is now a sport that deserves attention 365 days in the year. Head coach LaVall Jordan and his staff must move on from the special moments of "Team 122" to focus on who is going to be back next season to fill the roster.
On March 21, freshman guard Khalif Battle announced that he would transfer from Butler after just one season with the team. The New Jersey native average three points per game off the bench for the Bulldogs in 11 minutes per game.
The news is particularly noteworthy for Butler basketball fans because of the role Battle projected to play next year. With Baldwin graduating, Battle would have been the player expected to log those minutes at the shooting guard position.
However, announcements that some Butler players may not play for the team next season were not through for the offseason. On March 26, junior forward Jordan Tucker announced he would declare for the 2020 NBA Draft. While maintaining his eligibility should he decide to return to school, Tucker's message to Butler fans did not make it sound like he would return for his senior season.
Tucker was in line to potentially become the Bulldog's leading scorer on the perimeter in the 2020-'21 season after posting 8.9 points per game last season. If Tucker keeps his name in the draft, Coach Jordan will have to move some pieces around to field a competitive team in the Big East.
Jordan returns his 3-year starter at point guard Aaron Thompson as well as his two starters in the frontcourt from a season ago, redshirt senior-to-be Bryce Nze and rising junior Bryce Golden. With them, Butler will return reserves Christian David, Markeese Hastings, John-Michael Mulloy and walk-on Campbell Donovan.
This means Butler returns three starters from what was certainly a tournament team in 2019-'20, but the other players returning combined to average just 4.2 points per game this past season. Add in Thompson, Nze and Golden's points, 24.5, and the Bulldogs could be returning just 37 percent of their scoring from a year ago. That will require some major shoes to fill that void.
Fortunately for Butler, they are bringing a recruiting class ranked in the top 30 in the country. The five new Bulldogs are all 3-stars according to 247 sports but should be able to contribute to the team relatively quickly in their career given the opportunities available.
Scooby Johnson is the highest rated according to 247 sports. The 6'6, 210-pound forward from Benton Harbor, Michigan was named Mr. Basketball in his state and he is not alone in that fact. Myles Tate, a 6-foot guard was named Mr. Basketball in South Carolina as he was the lead player on one of the best high school basketball teams in the country.
Jakobe Coles is a 6'7, 230-pound forward from Denton, Texas. Look for him to fill a lot of the minutes at power forward moving forward. Joining him will be guard Chuck Harris, a 3-star guard from Washington, D.C. Expect him to fill in behind fellow DMV area native Aaron Thompson in his freshman season.
Rounding out the list is 6'9 forward Myles Wilmoth from Barrington, Rhode Island. With the Bulldogs plethora of big men on the roster, Wilmoth expected to be redshirted for his freshman season.
O.k., so there's a lot of moving parts for the men's basketball team next year. Given what we known now, what could this mean for this team? What will the group look like?
Below is an example depth chart filled with projected minutes per game with offseason progression and expanded minutes taken into account.
First, let's assume the best-case scenario. Jordan Tucker tests the NBA Draft waters but decides it would be best if he came back to Butler and improve his stock in his senior season. Here's how it might shake out, minutes per game in parenthesis:
PG: Aaron Thompson (30), Chuck Harris (10)
SG: Myles Tate (20), Jordan Tucker (15), Harris (5)
SF: Tucker (15), Scooby Johnson (15), Christian David (10)
PF: Bryce Nze (15), David (10), Jacobe Coles (10), Markeese Hastings (5)
C: Bryce Golden (25), Nze (10), John-Michael Mulloy (5)
For total minutes layed out like this:
Thompson 30
Tucker 30
Golden 25
Nze 25
David 20
Tate 20
Johnson 15
Coles 10
Harris 10
Hastings 5
Mulloy 5
This scenario forces a freshman into the starting lineup, which is not ideal. However, it can be done. Now, let's take a look at how that would change should Jordan Tucker choose to remain in the draft pool.
PG: Thompson (35), Harris (5)
SG: Tate (20), Harris (15), David (5)
SF: Johnson (20), David (20)
PF: Nze (20), Coles (15), Hastings (5)
C: Golden (25), Nze (10), Mulloy (5)
For total minutes of:
Thompson 35 (+5)
Nze 30 (+5)
David 25 (+5)
Golden 25
Harris 20 (+5)
Johnson 20 (+5)
Tate 20
Coles 15 (+5)
Hastings 5
Mulloy 5
There is obviously a lot that change when Jordan Tucker leaves the equation. His 30 minutes are tough to manage regardless but especially when they have to be picked up by freshmen and players that have injury problems in the past like Thompson and David. A second spot in the starting five now belongs to a freshman and Butler's lack of guard depth is glaring to the point that they need Christian David come help with ball-handling duties.
While the situation is not ideal, there could be help on the way. Khalif Battle's departure opens up a scholarship one the roster, one Butler could use to recruit a graduate transfer who would be able to come in and contribute immediately. If Tucker leaves for the draft, that leaves another one. Considering the demand for graduate transfers, it would only be realistic to get one, but the Bulldogs could snag another transfer that would have to sit out a year and could help with the bright future in Hinkle.
Butler is already known to have reached out to several players. Some of the realistic possibilities include Trey Wertz originally from Santa Clara or Ian DuBose, a 6'4 guard who could come in from Houston Baptist and play immediately.
While the last few weeks have been difficult in many ways, Butler's outlook for the short term did not improve over that time. However, this is a light at the end of the tunnel, and the payoff after some growing pains could be worth the wait.