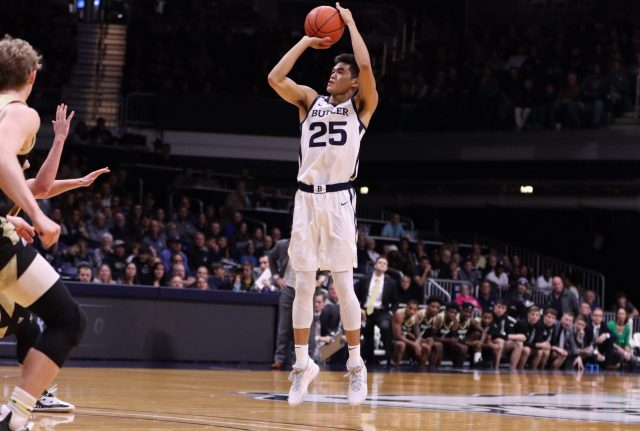 Butler's men's basketball team is losing some of their key contributors from last season, as covered here. The losses of Kamar Baldwin, Sean McDermott, Henry Baddley, Derrik Smits, Khalif Battle, and possibly Jordan Tucker (who plans to go through the NBA draft process but could still return to Butler) leave questions for next season about who will step up into a leading role on this team. There are five three-star recruits committed to Butler, making it the strongest recruiting class in years. But, freshmen cannot necessarily be expected to step into starring roles immediately. So today, we want to take a look at the Bulldogs who will be returning next season who should be poised to break out.
Christian David
David unfortunately had his junior season cut short on January 21 due to a torn ACL. Entering his senior season, he will likely continue his trend of increased playing time over his first three years. His freshman year he averaged 5.5 minutes per game, 11 minutes his sophomore year, and 13 minutes last season before the injury. His minutes were inconsistent last season in his last 10 games, ranging anywhere from five to 22.
Every statistical sample for David is small given his limited playing time, but he showed flashes last season of what a dynamic scorer he could be. On November 25 against Missouri he scored eight points with six of them coming from behind the three-point line. In that Missouri game he also pulled down five rebounds. At 6-foot-6, he is already one of the taller guys on the team. In his sophomore year (2018-19), he led the team with 14 blocks on the season. Assuming a full recovery from his torn ACL, his range on the defensive end and potential shooting stroke on the offensive end will keep him on the court for a significant amount of time next season.
John-Michael Mulloy
Mulloy did not see much action at all last season, due to him being a freshman on a crowded roster. However, he was a highly touted recruit when he committed to Butler. He was an AP All-State first team selection and he led Carmel High School to a state championship his senior year in 2019.
His best game for the bulldogs came on February 23 in a blowout loss to Creighton. They were six mop-up minutes, but he did manage to score four points and pull down six rebounds in that short period of time. At 6-foot-10, he is the tallest player projected to be on the roster next season. It may not be time for him to have a starting role yet, with junior Bryce Nze and sophomore Bryce Golden still having those roles locked down. But, he can still be the next big man off the bench and see significantly more playing time before stepping into a starting role his junior year.
There are not too many players not named who are expected to step into significant minutes next season. Their breakout potential will also be partially predicated on the contributions of incoming freshmen and transfers. Someone could come in and force their way into a starting role right away like Baldwin did in 2016-17. There are a lot of holes to fill both on the offensive and defensive side of the ball next season. Anyone on the roster could step up to be the next McDermott, a complete sharpshooter, or the next Baldwin, a team leader who gives major contributions on both sides. David and Mulloy are two players with plenty of upside that are poised to be major contributors next year.