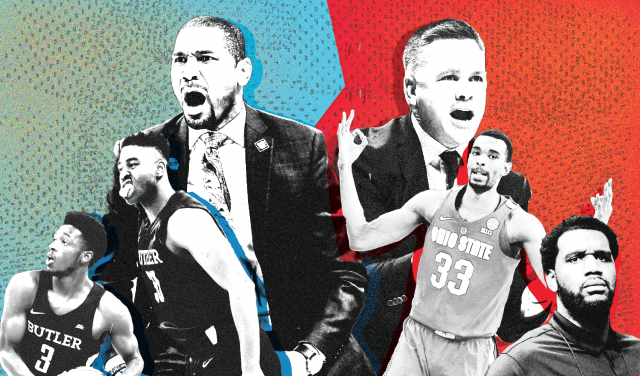 The world is a funny place isn't it? With nearly eight billion inhabitants on 195 countries, the odds of earth-defying coincidences seem astronomical. But still, Thomas Jefferson and John Adams died within an hour of each other on the Fourth of July. Bohemian Rhapsody and Hey Jude were recorded in the same London studio. In 2001, Laura Buxton released a balloon in the air, only to be discovered 140 miles away by another Laura Buxton.
But then there's the Butler Bulldogs and Ohio State Buckeyes in 2017. A game brimming with so many compelling coincidences it makes the Laura Buxton paradox seem like B following A in the alphabet. Like the Jumanji board game hidden in the earth's core, the wonders waiting to be explored from it are endless.
This is the most fantastical, nonsensical, and bombastical game that ever was.
Before the storm
It was November of 2017 and Nike's Phil Knight was turning 80-years old. The deep-pocketed, athletic wear-inventing extraordinaire wanted to celebrate it in lavish fashion. Enter the PK80, a 16-team college basketball Thanksgiving-style smorgasbord spanning three days inside two neighboring stadiums in Nike's hometown of Portland, Oregon. With national powers including Duke, Texas, and Michigan State headlining the field, an instant must-watch event was created.
Thousands of miles away, the Butler Bulldogs got the call to take part in the exclusive tournament. Coming off a Sweet Sixteen trip the year prior, Chris Holtmann touted a deep roster, bolstered by the highest-rated recruiting class in school history. Just down the road in Columbus, the Ohio State Buckeyes also received an invite. A perennial hardwood powerhouse, they were dealing with the sudden departure of a legendary coach: Thad Matta. Following over a decade of leading the program, the Butler graduate/former head coach was out of a job.
In late May, the Buckeyes eyed candidates for the coveted head coach position. Like a tiger stalking its prey, they stealthily examined their choices, licking their lips. By the next month, they had their man: Butler's Chris Holtmann. With a freshly-signed eight year, $26 million contract in his back pocket, Holtmann bolted out of Hinkle Fieldhouse as fast as he could, taking his assistant coaches with him. The Bulldogs went back to their roots for his replacement, securing alumnus LaVall Jordan, a long-time Michigan assistant and UW-Milwaukee head coach as their new lead man.
Welcome to Portland
The leaves turned tangerine and belts were loosened. Holiday tournaments were happening all across the country, but none matched the sexy star power found in Portland for the PK80. Living legends like Mike Krzyzewski and Roy Williams headlined the coaching ranks, while soon-to-be NBA stars like Trae Young and Marvin Bagley supplied the fireworks on the court.
Teetering on the tournament's preposterous brink of possibility, was a matchup fans in both Indianapolis and Columbus were salivating over. While two other matchups for each team were yet to be played, imaginations ran rampant. Butler and Ohio State were potentially on a colossal collision course.
Following blow out losses by both teams, the Buckeyes won on Thanksgiving-eve, sealing their destiny in the final round. The Bulldogs had a meager showing against the mid-major Portland State Vikings, who were one missed three away from getting the upset. Still, a 71-69 steal of a victory locked the matchup into stone. On Thanksgiving day, the impossible possibility became a shocking reality: less than 5 months removed from a head coach highway robbery, the Butler Bulldogs would face off against the Ohio State Buckeyes.
It's turkey time
Chris Holtmann looked on, watching Kelan Martin and Kamar Baldwin warm up before tip-off like he had done so many times before. What a difference a red and silver polo makes. Holtmann told ESPN that the matchup was "less than ideal". Also flipping sides was freshman forward Kyle Young, who committed to Butler before jettisoning off to Columbus. Young wasn't the only Buckeye with previous connections to the Bulldogs. During LaVall Jordan's tenure at Michigan, he recruited Ohio State's Keita Bates-Diop and Jae'Sean Tate. Musa Jallow heralded from Bloomington, IN, and both he and Andrew Wesson received offers from Butler. No player for the Bulldogs gained recruiting interest from the Buckeyes.
Off the court, the connections also ran rampant. The larger-than-life, opinionated persona of Dan Dakich (who happens to host a sports radio show in Indianapolis) was on site to call the game for ESPN. His son, Andrew Dakich, played 20 minutes in the game against Butler. Prior to transferring to the Buckeyes, he wad coached by LaVall Jordan at Michigan. Greg Oden, the disgraced former-number one pick for the Portland Trail Blazers, made his return to the Rose City as a graduate-assistant with Ohio State.
The Bulldogs started the game slow, finding themselves in an early 3-11 hole. By halftime, Butler closed the deficit and trailed by just three. From there, Holtmann and his staff of former Bulldogs put on a clinic, mounting a twelve-point lead with just under three minutes left.
But this tale is far from over. When the stars align to create this anomaly of amazing absurdity, it doesn't end in a typical natural fashion. No, this had to finish with a raucous finale– a heart-pounding climax.
Kicked off by a Kamar Baldwin three-pointer, the Bulldogs began their comeback campaign. Spearheaded by a renewed effort on defense, they cut the lead to just three points with under 30 seconds left. Just a year prior, Baldwin hit a game-winning shot against Northwestern, featuring a play drawn-up by Holtmann. This time, it was all Baldwin:
Heading into overtime, the titans of this modern story of mythical proportions had their final battle. Trading baskets and jabs, the intertwined story of Butler and Ohio State came down to the final seconds. With the weight of history on his shoulders, Kelan Martin waved goodbye to the Buckeyes with this nail in the coffin shot:
The final score was 67-66, but that isn't the end of the story. As the world moves forward, the coincidences and flukes continue to pop up. Kelan Martin and Keita Bates-Diop would end up being teammates on the Minnesota Timberwolves over two years later. Bates-Diop's brother is currently a student manager for a college basketball team. However that team is not Ohio State– it's Butler. History may soon lose the details of this miraculous matchup, but the ripple effects will stick with both programs until the end of time. The world truly is a funny place, isn't it?