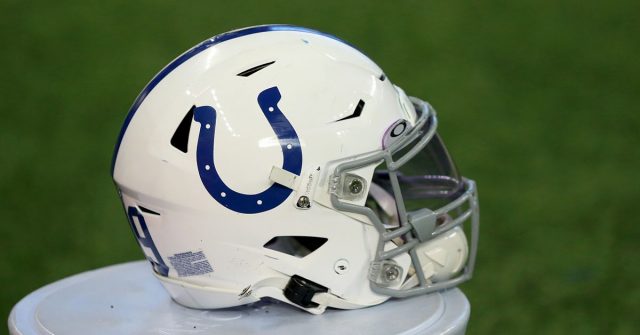 Photo courtesy of Bleacher Report.
By Nick Kuster
The Indianapolis Colts were not quiet during the free agency period this year as they made many moves to help improve the roster in specific need positions. The Colts will also look to add young talent through the draft this upcoming Thursday.
The Colts have added talent through free agency in the past, but General Manager Chris Ballard is known not to splash the cash on players during this time. Instead Ballard has shown he likes to secure picks and build the team and roster through the draft.
Probably Ballard's most successful move with the Colts thus far was when he traded the third overall pick to the Jets in return for the sixth pick and pick 34. Those two picks were used on Guard Quenton Nelson and LB Darius Leonard. Nelson in his first two seasons was an All-Pro and Leonard led the league in tackles his rookie year and made the Pro-Bowl the following one.
This year's free agency was a little different and it directly impacted what positions Ballard and his team will look at in the NFL Draft.
Colts Free Agency signings and one
DT DeForest Buckner – 4 year $84 million extension
Chris Ballard put the entire league on notice right at the beginning of free agency and it wasn't a free agent signing… it was a blockbuster trade.
Blockbuster: The #49ers are trading Pro Bowl DL DeForest Buckner to the #Colts, sources say, in exchange for a first-round pick. A massive deal for both teams, with one of SF's key players on the move.

— Ian Rapoport (@RapSheet) March 16, 2020
Buckner was a part of the 49ers talented defensive line that consisted of Nick Bosa, Arik Armstead and Dee Ford. Armstead recently agreed to a new deal with the 49ers, making it hard in the coming years for them to keep all of their star players. So they had to make players like Buckner available via trade… and Ballard pounced.
Buckner is huge as he comes in at 6'7, 295 lbs. Buckner had 7.5 sacks, 62 tackles and 9 tackles for loss last season with the 49ers and in 2018 Buckner had 12 sacks with 17 tackles for loss.
Buckner will be in Indianapolis for the long haul as he is only 26 years old. He will bring a much needed presence to the heart of the defensive line for the Colts who were toward the bottom of the league last season in rushing yards allowed per game. This trade adds another All-Pro and a leader with experience to a younger roster.
https://www.youtube.com/watch?v=hQQNPt84qEo
QB Philip Rivers – 1 year $25 million
This is a signing most Colts fans thought they would never see… Philip Rivers in a Colts uniform.
The veteran quarterback signed for the Colts after spending his previous 16 seasons with the Chargers. Rivers had a rough 2019 as he threw for 23 touchdowns, 20 INT's and a quarterback rating of just over 48, which ranked 22nd in the league. Rivers did throw for the fourth most yards among quarterbacks.
Rivers brings leadership and a gunslinger approach to an offense that lacked the deep threat last season. Jacoby Brissett led the way for the Colts in 2019 and saw himself struggle as the season progressed. Brissett and the coaching staff relied heavily on RB Marlon Mack. It didn't help Brissett that TY Hilton was hurt for most of the season and the Colts receivers were plagued with the drops. Brissett still remains with the Colts and will most likely serve as the backup for the 2020 season.
This deal for the Colts is a low risk, high reward situation because of the contract only being for one season. For Rivers, it is a chance to prove he still has some magic left in the tank.
Former Chargers' QB Philip Rivers and the Colts reached agreement on a 1-year deal, per source.

— Adam Schefter (@AdamSchefter) March 17, 2020
CB Xavier Rhodes – 1 year, $3.25 million
Philip Rivers was not the only surprising Colts signing this free agency. Former Vikings All-Pro cornerback Xavier Rhodes signed pen to paper to play in Indianapolis for a season. This deal for Rhodes is a chance for him to prove he can be an elite level corner like he was back in 2017.
Rhodes struggled last season for the Vikings and that ultimately led to his release last month. Rhodes had zero INT's and 6 passes defended last season. Add on to that he allowed a quarterback rating of 123.8 from opposing quarterbacks throughout the season.
Ballard is taking a risk on Rhodes as cornerback is a position of need heading into the draft. With the signing of roads and also former Cleveland Brown T.J. Carrie just recently, it makes you wonder if Ballard and his team are looking a different direction come Thursday night.
https://www.youtube.com/watch?v=qfe4q7FR0AE
Other Colts Notable Free Agent Signings
LT Anthony Castonzo – 2 year, $33 million
DT Sheldon Day – 1 year, $1.75 million
CB T.J. Carrie – 1 year, league minimum salary
NFL Draft Preview
Heading into Thursday night's NFL Draft, the Indianapolis Colts only have seven picks, with the first one being the second pick of the second round.
Ballard was on a video call just last week with the media discussing the draft and he publicly stated how he would like more picks in the draft. So expect Ballard to not be quiet on Thursday night and Friday.
But with the seven picks the Colts have, there are specific positions of need that have to be addressed and other positions where they can draft for the future.
Below are the positional needs for the Colts and the players who could be taken by Indianapolis.
WR
Probably the biggest hole to fill in the draft is the wide receiver position. The Colts only have one trustworthy target in TY Hilton and he has been rattled with injuries. The Colts need a taller receiver who can beat his man deep but also runs the 5 to 10 yard routes at an effective rate.
The wide receiver class in this years draft is deep so Ballard will still have options with his first pick at that position, even though it will come in the second round.
Justin Jefferson made a name for himself last season with the Tigers as he led the team in receptions with 111, which also tied for the most in the FBS. He also finished second in the country in touchdowns only behind his teammate Ja'Marr Chase. Jefferson has good size as he comes in a 6'1 and just over 200 lbs. He will impact whatever team takes him right away and expect to see his name off the board late in the first round. If he does slip, then the Colts could be right there to snatch him up.
A name most Colts fans hope to see drafted with the 34th pick. Denzel Mims fits the mold of what the Colts need at receiver. At 6'3 Mims brings the height and physical body as well as the speed that a pro receiver needs. Last season Mims was a first-team all-conference selection in the Big 12. Mims had 66 catches for just over 1,000 yards and 12 touchdowns. Expect the Colts to really be honed in on Mims during the draft.
Michael Pittman Jr. – USC
One of the best receivers in the league last season, Pittman Jr. was a force to be reckoned with in the PAC-12. Pittman is another player who fits the size and length that the Colts are missing on the outside. He comes in at 6'4 and is a tad slower than the likes of Jefferson and Mims, but makes up for with the size of his arms and hands. Pittman had over 1,200 yards last season which saw him capture second-team AP All-American and first-team All-Pac-12 status. He also was a finalist for the Biletnikoff Award.
CB
Even with the signing of Xavier Rhodes and T.J. Carrie, the Colts still need to address the cornerback position in this upcoming draft. Recent draft picks such as Rock Ya-Sin and Quincy Wilson have struggled to make an impact on the team thus far. Ya-Sin was only a rookie last season and will be expected to make a major jump this upcoming one.
Still, the need for CB is evident and here are some players the Colts may look at during the draft.
The TCU product is a player the Colts will have their eyes on come draft day. Gladney comes in at 5'10, which is not huge for his position, but he makes up for it with his speed and anticipation. His ability to cover will make him a solid cornerback in both man defense and zone defense. If the Colts do not take him with their first pick then keep an eye on the Colts next pick in the second round.
The younger brother of former Vikings receiver and current Bill Stefon Diggs. Trevon was third-team AP All-American and second-team All-SEC as a senior with the Crimson Tide. Diggs is much bigger for a corner as he comes in at 6'1 and just over 200 lbs, which will make it tough for opposing receivers to get past him and leap over him to catch passes. Diggs should have an immediate impact on whatever team takes him and if he is available when the Colts pick, do not be surprised if you see his name taken.
Another bigger cornerback, Terrell looks to be the ninth corner drafted from Clemson since 2010. Terrell was first-team all-conference in the ACC last season and had two interceptions and six pass breakups on the year. At 6'1 Terrell has speed as he clocked a 40-yard dash time of just over 4.40 and a vertical jump of just under 35 inches. Terrell will be tough to beat deep with his speed and will not be a corner who gets thrown too very often due to his length and size.
QB
Colts fans know they are going to address the quarterback position in some way, shape or form in the draft. When they signed Philip Rivers it was made known that quarterback will not be address immediately, but instead eventually. The Colts will look to take a quarterback who needs time to mature and is one to not be thrown in with the wolves and lose confidence right away. Here are some quarterbacks the Colts should look at.
Jordan Love presents a high risk, high reward for whatever team takes him this week. Rumors have been spreading of teams trading up into the first round to make sure they do not miss out on Love. Love brings a gunslinger approach to the NFL. At Utah State this past season Love threw for over 3,400 yards and 20 touchdowns. He also threw 17 INTs. The year before that was when Love really started to make a name for himself, but this past year he took a decline and that decline presents a risk for teams who are looking to take him this year. I do not expect the Colts to be in play for Love, even though they might have been just weeks ago.
A much more realistic option for the Colts is Jacob Eason. Eason comes in at a great height for NFL quarterbacks, 6'6. In Eason's first full year as a starter, he had a 64 percent completion percentage while throwing for 23 touchdowns and only eight INTs. Eason also has a gunslinger style to his play as he has a cannon for an arm. He is truly a pro-style quarterback who will leave the pocket rarely. Eason could be a perfect quarterback to draft and watch a season from the sidelines behind veteran Philip Rivers. That year to learn from someone like Rivers could give Eason a great opportunity in his second year as a pro to make an impact.
Jake Fromm is a quarterback who will probably be taken in either the third or fourth round. Fromm comes from Georgia where he played all three seasons he was there. Competing in the SEC is not easy for any quarterback as they have to go up against the likes of Alabama, LSU, Auburn, etc. Fromm this past season threw for 24 touchdowns, but more importantly only five INTs. That is a number scouts and general managers are looking at. Fromm is a quarterback who does not make a lot of mistakes and has a great ability at adjusting plays while under center. If the Colts do not take a quarterback in round two, Fromm could be there for the Colts on draft day two or three.
Overall
The Indianapolis Colts have made moves through free agency that will impact their team immediately and will not hurt them in the long run. With the draft coming up this week, they will look to add much need talent at specific skill positions such as wide receiver and cornerback. They may even make fans really happy by drafting a quarterback as well.
Ballard has proven to not sit back and be quiet on draft night, so there is a possibility of Ballard moving up back into the first round during the draft if there is someone on the board who they just can not pass up.
Time will tell to see if the free agency signings pan out. As for the draft, sit back and relax as you watch the future of the league drafted virtually for the first time ever.